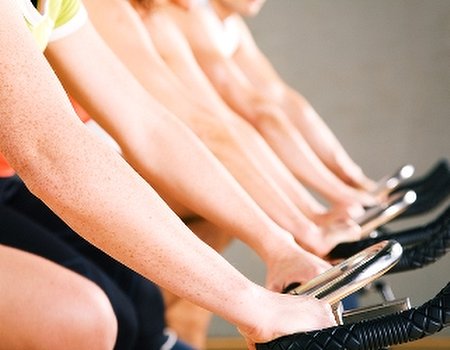 Here at Wahanda, we've scoured gyms worldwide to track down the new fitness trends that are set to make waves in 2011- especially for you!
Following our research, it seems that the New Year's fitness crazes are all about technology; ways to give consumers a variety of fast, effective workouts all under one roof.
Whether biking is your thing or you prefer a spot of Pilates, these new fitness phenomena offer a multitude of popular exercises at your disposal- and if you fancy some all-terrain action, you don't even need to go outside.
Confused? Read on to find out more about our fun fitness trends, but be warned: imagination is key…
Exergaming
The newest advance in gaming technology, the Trixter Xdream bikes are the fun replacement to the standard exercise bike.
Combining exercise and gaming, this exercise is perfect for you closet gaming geeks!
Trixter Xdream bikes are the UK's first indoor interactive bikes that realistically stimulate the experience of riding outdoors.
This means you can ride through luscious forests, and dusky deserts- all the whilst you remain tucked away inside your toasty/blissfully air conditioned gym.
The bikes promise to give your body a full workout, helping to tone your arms and strengthen core muscles, all whilst burning more calories than the average exercise bike.
Riders gaze at a LCD screen and move with lateral bike handles that follow your every move- so when you move right, the virtual you does too. Sensors are embedded in the seat, handlebars and pedals so your every move is replicated on screen. Make sure you don't put a foot wrong- you don't want to end up in a virtual ditch!
If you find normal exercising a little tiresome, the novelty of Xdream bikes may be right up your street and you may even forget you are working out. Competing against other virtual riders and dodging potential hazards and corners; the bikes are a fun and exhilarating way to get fit.
If you fancy testing out your riding skills, you can try the Trixter Xdream bikes at Virgin Active Clubs nationwide, or you buy the bikes yourself for £5,995.
Gravity Training
All the rage with celebs right now (even Coleen Rooney is rumored to have taken it up), Gravity Training is a craze that's predicted to set the fitness industry on fire.
Gravity Blast sessions involve a 30 minute cardio resistance class that helps to sculpt and tone the body using just one piece of kit.
Unlike other exercises, this new technology can give the body a full workout in one go. It is said to improve muscular and cardio endurance, as well as boosting strength, agility and flexibility- you can literally work every muscle in your body!
Proving popular with those who have little time on their hands but want a full body workout, Gravity Training promises to give an effective and full body workout in the minimum amount of time.
Sounding a little intense? What's good about Gravity Training is that whether you fancy a high pressure workout involving core training or would rather stretch out with some relaxing Pilates moves, the equipment has a variable incline that allows you to increase or decrease the difficulty. You can adapt the level in order to play to your strengths… or weaknesses as the case may be!
Like Exergaming, the technology used during Gravity Training has the potential to mimic the specific movements of a chosen lifestyle or sporting activity, meaning you can include your favourite exercise in workouts (and maybe try out a few others at the same time). As a result of this adaptability, classes never get dull!
If you fancy giving it a try- the Gravity Training System is now available at Nuffield Health Clubs and independent UK gyms.
Tried out one of these techno exercises already? Let us know how you got on by reviewing your experience online or tweet us with your thoughts @Wahanda.