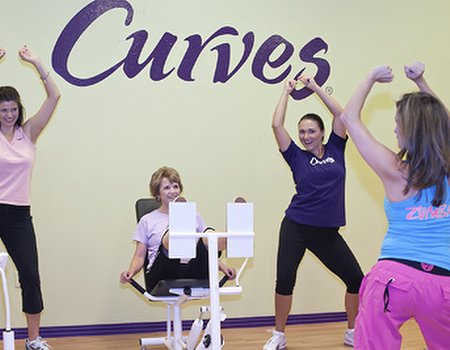 Over the last few years, Zumba has taken the fitness world by storm. This high-paced energetic workout combines elements of dance and aerobics with great Latin and hip-hop beats to burn calories and help keep the body toned. Now Curves clubs have combined this popular form of exercise with their circuit class to create a new workout that's even more fun and effective. Get ready to shimmy yourself slim...
Curves focuses on fitness and weight loss solutions for women (sorry boys, sometimes we need our girl time). Designed to help you wave goodbye to those extra pounds, strengthen up those muscles and kick start your metabolism, Curves' exercise and diet programmes are a fun and motivational way to get in to shape – who said exercise had to be boring?
The new Curves Circuit with Zumba Fitness is a varied class which aims to help you get the most out of a training session by alternating exercises. During the class you will work out on each Curves strength training machine for one minute, alternating upper, lower and core muscles. After each minute you will be prompted by a change in music to move on to the next station, where you will dance some easy but energetic Zumba moves for the next minute.
The Curves Circuit incorporating Zumba is particularly good news for busy ladies - with short but high-energy classes designed to burn a whopping 500 calories in just half an hour, it's easy to fit in around the rest of your life. So no more excuses...
Spokeswoman for Curves, Gill Brady, said of the Curves Circuit-Zumba Fitness combination: "We're thrilled about the partnership and have already seen some amazing results".
After a successful launch at London's Pineapple Dance Studios, the Curves Circuit with Zumba Fitness is now available at Curves clubs nationwide. Head to your local Curves centre to try this fun new workout and dance your way to your dream body.