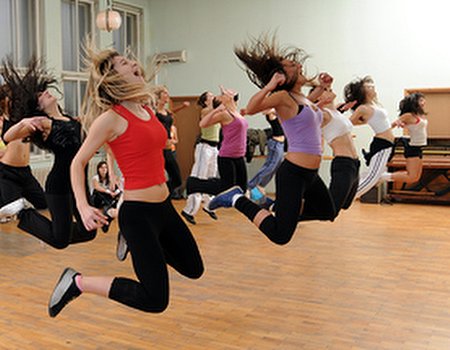 Hold up – we feel a dance-off coming on...
The festive season is officially over, and it's time to get that fitness show on the road. It's no surprise, then, that the question on lots of people's lips has changed from 'cream or brandy butter?' to 'Zumba or Jazzercise'? We've got to admit, it's a bit of a toughie...
As far as we're concerned, there's no contesting the fact that a dance-based workout remains one of the best ways to kickstart a new fitness regime. A more appealing alternative to staring at the same spot on the wall as you pound the treadmill, dance-inspired exercise classes allow you to make new friends and have fun whilst you stay in shape. The difficulty is – which one to choose?
At Wahanda we're always on hand to answer any questions you might have, and we're particularly excited about helping you to achieve your New Year's fitness goals. With that in mind, we've compiled a handy mini-guide to Zumba and Jazzercise, to help you decide which workout is best suited to you. Of course, if you went a little more overboard than expected with those pesky mince pies, you could always have a go at both...
Zumba
Feeling fed up with 2012 already? If the gloomy weather and the dismantling of the Christmas lights have got you feeling glum, Zumba could be just the thing to cheer you up. The upbeat Latin music and friendly atmosphere of these classes make it impossible to stay moody for long...
What is it?
A dance-inspired fitness solution, Zumba includes moves taken from samba, salsa, merengue and mambo, as well as some derived from Bollywood dance and belly dance. Classes also incorporate aerobic elements to help you get your heart rate going whilst you shimmy your way into shape.
Why Wahanda loves Zumba
With a variety of different tunes to dance to, both fast and slow, Zumba feels more like fun than fitness (promise!). Take some friends along and let they rhythm carry you – you'll have a svelte new figure in no time.
How can I get started?
Ready to dance yourself slim? We've got plenty of deals and offers on Zumba classes from as little as £5. That's less than a pizza...and so much better for you!
Jazzercise
Think you're too busy for exercise and all that jazz? Think again. Jazzercise is an intense, fast-paced class that will have you burning as many as 600 calories in just an hour. We can't think of a more efficient way to use that lunch break...
What is it?
If you're picturing yourself dressed up as a twenties flapper with a champagne glass in hand, we're sorry - we're going to have to bring you back down to earth. Whilst Jazzercise derived from traditional jazz dance, it also incorporates elements of stretching, kickboxing and resistance training – meaning that this fitness class really is no picnic.
Why Wahanda loves Jazzercise
Perfect for those who find themselves easily bored when it comes to working out, Jazzercise provides plenty of variety. When else would you get the opportunity to try your hand at hip hop, yoga, Pilates, kickboxing, strength training and cardiovascular training, all in the space of an hour?
How can I get started?
Keep an eye out for all the new venues we're adding to our Jazzercise page – they're the perfect place to unleash your inner exercise fiend.
Looking for more fitness inspiration to keep you on the straight and narrow this January? Step away from the biscuit tin and have a browse of our great fitness deals – they're just what you need to help you turn over a new leaf.