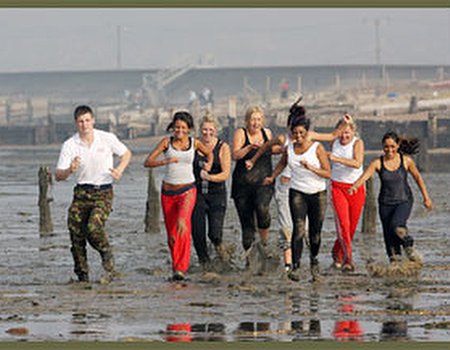 Had one too many takeaways lately? If you know the phone number of Dominos off by heart, a bootcamp might be just what you need to help you get back into shape. Luckily, celebrity favourite G.I. Jane is offering Wahanda users an impressive 64% off – so that you needn't worry about the pennies on your quest to shift those pounds.
New recruits to Kent based G.I. Jane are in good company – the bootcamp is popular with celebrities such as Coronation Street's Michelle Keegan and former Atomic Kitten singer Kerry Katona. Kerry even attended the bootcamp to get herself into shape before entering the Celebrity Big Brother house in August. We may not have a trip down the red carpet lined up, but we still fancy getting ourselves a body that's sure to turn a few heads...
Not sure if you can survive the gruelling schedule of a full week's bootcamp? Our nifty taster day deal will put you through your paces for a mere 8 hours, so that you can see whether G.I. Jane is the solution to your fitness needs. With activities such as netball, boxing and running burning up to 600 calories and hour, we reckon you'll be pretty impressed with the results. And who knows, you might meet some new friends who would make great fitness buddies.
We're sorry boys, but this bootcamp is all about girl power – so you'll have to check out some of our other venues if you're looking for an intense workout.
Like the sound of pushing yourself mentally and physically and creating a fitter, healthier new you? Take advantage of our £25 G.I. Jane bootcamp offer and we promise you won't look back. The cost of two large pizzas, the taster day isn't just much healthier for you – it will also last longer and won't give you onion breath. We know what we'd rather spend our £25 on...
Decided it's time to get serious about this fitness business? The G.I. Jane MobDeal goes live tomorrow (Wednesday 7th September). We can also help you find a personal trainer near you to help keep up the good work afterwards, and a nutritionist to slap your hand when you reach for the pizza...