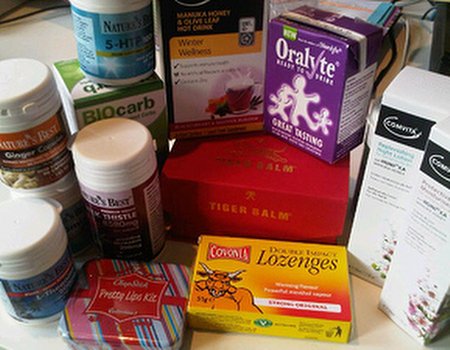 Already feeling a bit flustered by the festive season? With presents to buy, people to cook for and parties to attend, December can seem a bit daunting. Luckily, we know just what you need to help you stay calm, in control and in good health this Yuletide. Phew...
In need of a helping hand this Christmas? We can't help you stuff the turkey, but we do have a Survival Kit to give away to one lucky person. Read on to discover what's in our clever kit and how you could be in with a chance of winning....
L-Theanine and TigerBalm
Who said Christmas couldn't be relaxing? Bring down your stress levels with Nature's Best L-Theanine (www.naturesbest.co.uk) and keep calm with soothing TigerBalm Baoding Balls. You'll be feeling less frazzled in no time...
Vitamin D and 5-HTP for SAD
Don't let the blues take over this winter. Studies have shown that supplements such as Vitamin D and 5-HTP (both available from Nature's Best) can have an even more positive effect on mood than light therapy. Looks like it could be a merry Christmas after all...
Comvita hot drink and Covonia lozenges for colds
We all dread looking forward to Christmas Day only to find that we come down with a nasty cold the night before. Arm yourself with numbing Ultra Chloraseptic® Anaesthetic Throat Spray (Boots) and antibacterial Comvita Manuka Honey & Olive Leaf Hot Drink (www.comvita.co.uk) and that pesky bug won't know what's hit it.
You could also try Covonia Double Impact Lozenges Extra Strong (available from pharmacies and supermarkets nationwide). Combining a powerful menthol punch with a warming flavour, the lozenges will help you to feel as right as rain in no time.
Oralyte and milk thistle for hangovers
Going to lots of Christmas parties this month? You may enjoy all the champagne, cocktails and mulled wine that's on offer, but the chances are your body won't. Hydrating Oralyte (Boots) will help to replace any salts and fluids lost as a result of alcohol consumption, whilst Nature's Best Milk Thistle will support your liver and aid the detoxification process.
Ginger for migraines
A migraine is the last thing you need over the festive season. Nature's Best High Strength Ginger capsules help to tackle vomiting and nausea, as well as having an anti-inflammatory effect. We'll definitely be keeping some of these to hand this Christmas...
BioCarb and Ibisene for overindulgence
It happens every year – we find ourselves eating too much, with pretty undesirable results. Luckily, Nature's Best Ibisine tablets contain artichoke to help relieve digestive discomfort. If you're worried about gaining weight, you could also try BioCarb (www.chemistdirect.co.uk), a natural product which helps to reduce the absorption of calories.
Comvita day and night cream and Chapstick lipbalms for dry skin
Lots of us suffer from dry skin during the winter. Why not hydrate yours using Comvita Protective Day Moisturiser or Comvita Replenshing Night Moisturiser, which contains exotic myrrh. To keep your lips super soft, try one of Chapstick's stylish lip kits – we love ours!
Like the sound of these impressive products? As with all supplements, make sure you consult with your doctor before taking - just to be on the safe side.
To be in with a chance of winning this Christmas survival kit, all you have to do is log into Twitter and tweet the following: I need fitness deals and a Christmas Survival Kit from @Wahanda to stay healthy this winter!
Good luck!
This competition is now closed. Thank you to everyone who entered and congratulations to the winner - we hope you enjoy your stress-free Christmas!