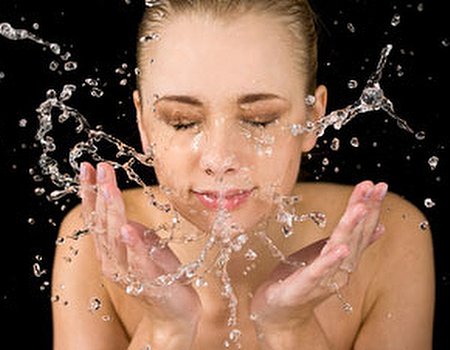 No, we don't expect you to don your birthday suit – in fact, we'd really rather you didn't. We're actually referring to National No Makeup Day, which takes place tomorrow (22nd March) and aims to encourage women to give their skin a break from cosmetics. Time to reach for that cleanser...
As a nation, we're divided when it comes to our approach to beauty. Whilst some of us won't even go to Tesco without a good lashing of mascara, others are regularly to be seen rocking the natural look in public. However, according to a recent survey by the Vitality Show (www.vitalitylive.co.uk/vitality-show), the bare-faced among us remain in the minority – with 70% of women declaring that they wouldn't feel comfortable in the workplace without a full face of makeup.
Intrigued by the statistics, we did a brief poll of the girls at Wahanda HQ to find out what they thought. We discovered that whilst a third were horrified by the thought of coming into the office without their makeup, two thirds actually felt pretty relaxed about it. Although, we have to admit that a few (we're looking at you, Laura) didn't seem quite so calm when we suggested that they actually put it into practice...
But why exactly is taking some time off from makeup so important? Going makeup free gives your skin a chance to breathe, and prevents blemishes that can be caused by a build up of chemicals and artificial ingredients. That's got to be worth a day without foundation or concealer, surely?
For those who aren't quite convinced, we've come up with a few handy hints to stop National No Makeup Day seeming so daunting. Follow our advice and you'll find a natural glow you never even knew you had...
Watch what you eat (and drink)
One of the best ways to keep your skin healthy is by making sure you get plenty of nutrients. Berries, sunflower seeds, citrus fruits and salmon are all great for giving your skin a boost - just make sure you wash them down with plenty of water for real radiance.
Moisturise, moisturise, moisturise
Have we emphasised that one enough? Often, lacklustre skin is the result of dryness – a problem which is particularly exacerbated by weather conditions, pollution and stress. Try a few different moisturisers to find one which suits you, and treat yourself to a facial every now and again for deep hydration that'll have a long-lasting effect.
Don't forget your sunscreen
We're all primed to slap on sunscreen in a heatwave, but many people don't realise that the sun can have a damaging effect all year round. Apply a light sunscreen or choose a moisturiser with added SPF to keep your skin safe and prevent the formation of fine lines.
Horrified by the thought of leaving the house without your lippy? or maybe you can't understand what all the fuss is about... We'd love to hear from you - find us on Twitter (@Wahanda) or leave a comment on Facebook to let us know what you think.