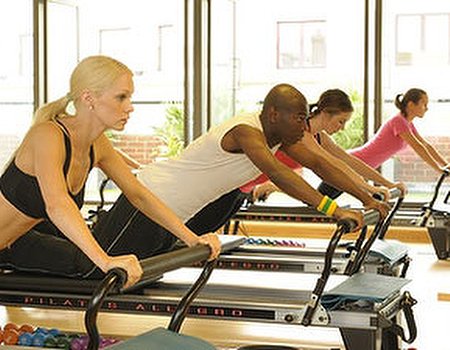 It can be hard to get into shape on your own – which is why we decided to make January's Wahandies awards all about the best places to go to get a helping hand. As usual, the winners were chosen based on community reviews – and it looks like you've picked some really good eggs.
In addition to awarding the best places for bootcamps, colonic hydrotherapy and nutritional advice, we wanted to show some recognition to the best Pilates venue – as we think Pilates is a fantastic way to keep both body and mind in good health. Our community's favourite? Pilates HQ – a studio that offers fun and dynamic classes to busy Londoners.
We asked Tasnim of Pilates HQ to tell us a bit more about the studio and how it manages to stay so popular:
1. Can you tell us a bit about what you do?
Pilates HQ is a dynamic reformer Pilates studio located opposite Angel tube. Our fun and high energy classes combine the core-strengthening benefits of Pilates with resistance training to tone and strengthen the body, while increasing flexibility and improving posture.
2. How has Wahanda helped your business?
Wahanda has introduced clients to our business who are passionate about improving their health and fitness. They typically try our free taster Pilates session and enjoy it so much that they become Pilates enthusiasts. We have to admit that Wahanda clients are some of our favourite clients.
3. What's the secret to getting positive reviews from your customers?
We ensure that our pool of talented instructors is sufficiently diverse, with each instructor employing his/her own style to enable our clients to benefit from a variety of stimulating teaching techniques. This keeps our clients interested and challenged and provides our clients with a choice of instructor which suits their needs and fitness goals. At the same time, we attempt to strike the right balance between dynamism and technique as our ethos is to provide dynamic classes with attention to each client's Pilates technique. We provide a space which is modern, trendy, light and airy, where our clients can come and enjoy their surroundings and feel good both during and after their classes, both in body and mind!
Fancy taking part in a Pilates class? Head to our Pilates HQ page for more information, or print off a voucher for a free taster session.
Wondering which other brilliant businesses scooped themselves an award this month? Take a look at our Wahandies page, where all is revealed...