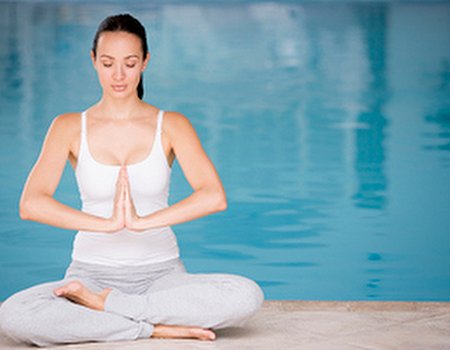 Spent yesterday evening howling? If this was due to back pain rather than morphing into a werewolf for Halloween, then it could be time to practise some poses. A recent study has found that taking part in weekly yoga sessions can have a much more beneficial effect on back pain than acupuncture, cognitive behaviour therapy and even painkillers. We think that's a pretty good reason to unleash your inner Yogi...
The study, which was conducted by the University of York, found that regular yoga practice could help make everyday activities such as walking, bending down and getting dressed much easier for those suffering from chronic back pain. It was also discovered that those who practised yoga generally felt much better than those who didn't, even nine months after the classes had stopped. Looks like staying still isn't necessarily the best cure after all...
Even for those who aren't yoga obsessives like us, the news that this Eastern activity can help relieve lower back pain is exciting stuff. An estimated 80% of adults in the UK suffer from chronic back problems, making the condition the second most common cause of long-term disability after arthritis. Now, sufferers have the chance of a better quality of life – all thanks to strange-sounding positions such as the crane, the pigeon and the crouching frog.
Terrified by the thought of trying to get into downward dog pose? It's important to tailor your yoga sessions to take account of your back condition. It's always a good idea to discuss any pain or medical problems with your instructor before starting a class – you don't want to do yourself a nasty injury.
Has your chronic condition got your back up? If you're fed up with pesky pains and aggravating aches, try a yoga class near you - you never know, you may find yourself feeling better than you have in a long time.