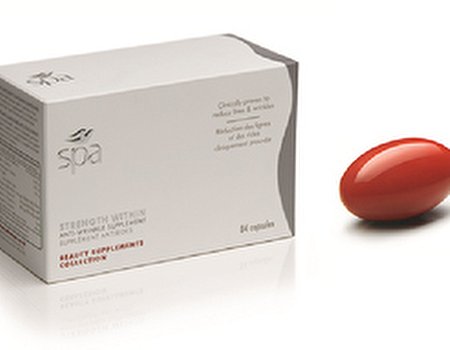 Sick of serums and bored with balms? With so many lotions and potions on the market, it's refreshing to see Dove Spa taking an innovative approach to anti-ageing. After 5 years of extensive clinical research, they've finally released a new anti-wrinkle supplement – designed to reduce the appearance of fine lines and creases. We don't know about you, but we think it's pretty impressive...
The new supplement, aptly named 'Strength Within', has been designed to help you look after your skin - from the inside out. Developed by a team of scientists, dermatologists and nutritionists, the product gives noticeable results after as little as 14 weeks. The great news? It's taken orally - so the supplement's benefits can reach all areas of the body, in addition to the face, neck and hands. Sounds like much less hassle than slathering yourself in body cream...
Think that wrinkles are a while off yet? Unfortunately, according to Dove Spa, collagen reduction in the skin begins to affect people from their mid-thirties - leading to a lack of firmness and the formation of deep lines. That's why solutions such as Strength Within - which contains soy isoflavones, lycopene, vitamin E, omega 3 fatty acids and vitamin C - are so important.
Not quite ready to start fighting the furrows? The lovely people at Dove Spa believe that beauty should be enjoyed by women of all ages and skin types – so whether you're after a wrinkle-reducing wonder or a refreshing facial to help you get back that glow, they'll have something to suit. Visit dovespa.co.uk to learn more about Strength Within, or have a look at our Dove Spa page to find your nearest venue.