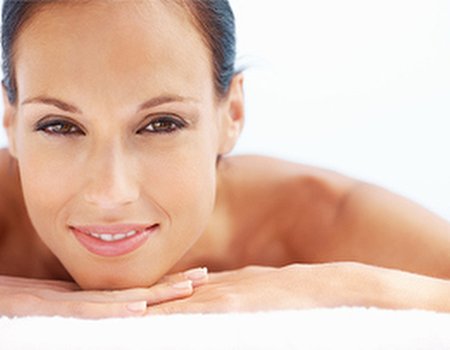 Ladies, there's no longer any need to be lumbered with lines - Corina, a new wrinkle-wrestling skincare range, has arrived in the UK. Designed specifically for women over 40, these lotions and potions combine natural ingredients with revolutionary technology to revive and rejuvenate the skin. Time to show your old anti-ageing products the bathroom door...
Does your skin feel dry and sensitive? After the age of 40, a woman's skin loses elastin, which can leave it looking lifeless and dull. But not to worry - Corina products use a special Infusiderm Delivery System™ to encourage collagen activity and pause the natural ageing process. The result? A glowing complexion and a whole new youthful you.
Dr Oscar Ramirez, co-inventor of the Corina skin care range, says: 'This is not just another of the many skin care products available on the market. The incorporation of high technology in the delivery system of natural cosmeceuticals takes this line of skin care to another dimension.
'The Infusiderm Delivery System™ allows nutrients, antioxidants and anti-ageing peptides to really penetrate beyond the corneal layer of the skin where many other products stay stagnant and clog the pores. In this way, the beneficial effects of the compounds in the skin care products reach the deeper layers of the skin to promote collagen growth, renewal of new healthy cells and counteract the oxidative stress of the sun, environmental toxins and the natural process of ageing.'
Mentally stocking up your shelves already? Here are just some of the exciting products that you'll find yourself wanting to make room for:
Energising Eye Gel – This soothing eye gel contains seaweed and grape extracts to reduce puffiness, as well as Tri-Peptide Syn®-Ake and Pentacare-NA to reduce the appearance of wrinkles. We think it's the perfect cheat's tool for pretending you've had a great night's sleep - even if you haven't.
Vitamin C Serum – Sick of sagging? This clever serum stimulates the skin's elastin, leaving it feeling firm, nourished and renewed. Who says you can't look as young as you feel?
Brightening Overnight Cream – We all love to sunbathe every now and again, but unfortunately harmful UV rays can cause damage to our skin - resulting in pigmentation. Corina's Brightening Overnight Cream works whilst you are sleeping to break down melanin, even out skin tone and give you a radiant complexion. Ready...steady...glow!
Gentle Refreshing Toner – Packed full with grapefruit, ginger root and green tea extracts, this refreshing toner will encourage circulation, leaving your skin feeling revitalised and reinvigorated. Use in the morning to make sure that you're ready for whatever the day will throw at you...
Can't wait to wave goodbye to those wretched wrinkles? The full range of Corina products is available to purchase at www.skinsecrets.co.uk. Alternatively, why not have a look at our deals and offers on moisturising and hydrating facials. Turning back time has never been so easy...