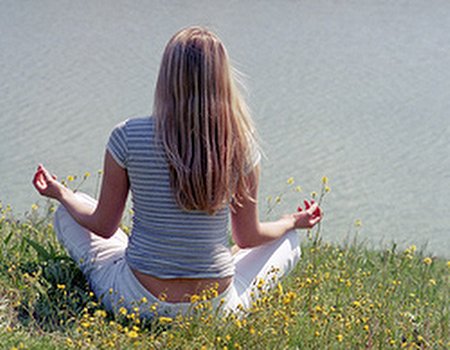 We all get that feeling sometimes that there just aren't enough hours in the day. When stress starts to kick in, it's important to relax – but it can be difficult to know how. Of course, ideally we'd be able to take ourselves off on an indulgent spa break as a weekly treat - (we've still got all our fingers and toes crossed for a lottery win)...
In the absence of a goose that lays golden eggs, yoga provides a free and easy way to regularly relax, and certain elements of this practice can be performed anywhere – equipping you with the tools to combat stress whenever it may arise.
Having always wanted to try yoga, but not keen on the idea of travelling to attend classes, I decided to give Maya Fiennes' book Yoga For Real Life: The Kundalini Method a go. Here's how I got on...
The book
Beautifully presented, Maya's book is a treat for the eyes as well as for the body and mind. Outlining the basics of Kundalini yoga, the book is divided into different sections corresponding to each of the body's chakras or energy points. In each section Maya provides instructions on how to perform some simple yoga poses, illustrated with helpful photographs. She also explains a variety of breathing, meditation and chanting techniques, all designed to help the reader unwind and achieve clarity of mind.
I found that Maya's anecdotal approach to writing really helped me to see how I could apply Kundalini yoga to my own life. She not only tells the stories of some of her pupils, but refers to events in her own life to show how yoga can have a positive effect. I'd recommend that you read the book through first before you start practising the postures – otherwise you'll find yourself a bit distracted by all the wonderful tales and photos.
The exercises
Eager to start reaping the calming benefits of yoga, I sat cross-legged on the floor and worked my way through the light warm-up exercises. These aren't at all strenuous to perform, and left me feeling nice and flexible, ready to try some more advanced postures. I haven't yet progressed to a downward dog, and I certainly can't touch my toes like Maya can, but I derived a great deal of satisfaction from practising the different poses – even if they did make my husband laugh.
I found Maya's guidance on breathing and meditation particularly helpful, as these relaxation methods can be used at any time. Such a simple thing as breathing properly should be instinctive, but it took Maya's book to make me realise that just changing the way I inhale and exhale can make me feel so much better about life. I am also following Maya's advice to write down five things a day which I am thankful for – it's a great way to help stay positive.
The result
I found that the Kundalini strategies I learned from this book helped me immensely. After a brief session of 15 minutes, my body felt more flexible, I was less achey, I felt more awake and alert and I also felt more peaceful. Even before I started practising the poses, I had gleaned lots of helpful advice from the book which I intend to put to good use on a daily basis. A huge thumbs up to Maya - this book may well have sorted out half of my Christmas shopping...
Fancy giving Kundalini a go yourself? If you prefer to exercise in a group environment, check out our dedicated Kundalini yoga page for details of practitioners offering classes. You'll be feeling nice and relaxed in no time...