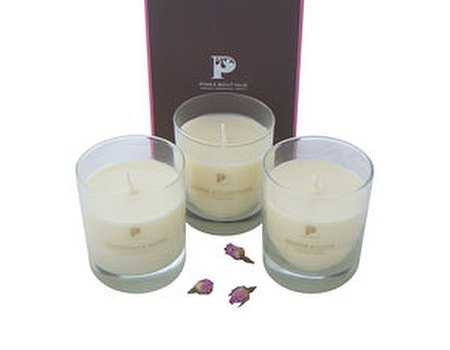 You always know that a product's a good'un when it causes a furore in the office. Within minutes of lighting this calming candle on my desk, I'd already attracted a steady stream of colleagues who were keen to investigate. And it's not surprising, given that there's much more to the product than first meets the eye...
The brand
A British brand inspired by the flowers and aromas of South East Asia, Pinks Boutique prides itself on its range of natural, organic products. From cleansers and toners to massage oils and body scrubs, the brand offers a luxurious experience combined with an ethical, environmentally-friendly approach. No wonder it's popular with spas such as Aman at the Connaught and Titanic Eco Spa...
Sensitive souls will be glad to know that they needn't shy away from these gorgeous goodies. Soil Association accredited and hand blended, Pinks Boutique products are completely free from chemical nasties. Instead, they are packed full with the finest natural ingredients, including a variety of pure aromatherapy essential oils to help you unwind. Bliss!.
Elegantly packaged and designed to a professional standard, the range is ideal for spa lovers looking to create their own pampering experience at home. And what better way to start than by setting the mood with a relaxing candle...
The product
My grapefruit and ginger scented candle arrived prettily packaged – so prettily, in fact, that it seemed a real shame to unwrap it. Housed in a beautiful box, the candle was wrapped in pink tissue paper and accompanied by dried rosebuds and a sachet of complementary bath salts.
Fancying a bit of a Thursday afternoon pick-me-up and looking to create a Zen atmosphere at Wahanda HQ, I was unable to resist lighting the candle as soon as I'd unwrapped it. It wasn't long before the office was filled with the refreshing scent of citrus and ginger – but that wasn't where the magic ended.
Made using eco soya wax and pure natural essential oils, the candle can also be used as a luxurious body moisturiser. Yes, you read that right - once melted, you can rub the wax and oil blend into your skin to nourish, condition and hydrate. Cue a crowd of excited Wahanda team members all wanting to give the product a go...
The result
The excited squeals in the office as this candle was passed around spoke volumes. The wax and oil blend is easily absorbed into the skin, and has a lasting softening effect. A good while after I'd braved sticking my fingers in the wax (it's not as hot as you might think), my palms and cuticles were beautifully nourished - not to mention nice and fragrant. Happily, a little goes a long way (as my colleague Ben discovered when he tipped half of the candle on to his hands) – so there's no need to worry about running out too soon.
Even if you're not in need of a moisturiser, the candle gives off a good, strong scent – not overpowering, but enough to really set the mood for some good old relaxation.
The Pinks Boutique scented candles are available in Grapefruit & Ginger, Jasmine & Ylang Ylang and Orange & Clove. You can purchase one from www.pinksboutique.com or from selected spa stockists - I think they'd make fantastic Mother's Day gifts.
Want to experience the luxury of Pinks Boutique products in a spa setting? Why not visit the Titanic Spa and let the professionals show you how it's done.