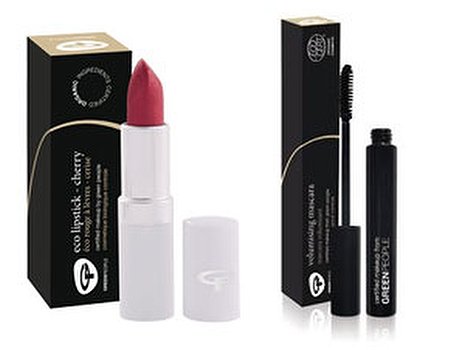 As someone who has fairly dry skin, I'm always wary of applying too many chemicals to my face. I love makeup, but can't help feeling guilty when I use foundation, concealer or bronzer - especially when I imagine what these products must be doing to my pores. Eye makeup, too, leaves me feeling uneasy - after all, our eyelashes are meant to keep impurities away from our delicate eyes, and coating them in synthetic substances seems more than a little counterproductive.
Unfortunately, having not been naturally blessed with a flawless complexion, thick eyelashes and a perfect pout, I don't really feel ready to throw out my makeup bag just yet. I am, however, trying to use chemical-free, natural products wherever possible – in the hope that my skin will thank me for it in the long run.
Determined to say no to nasties, I tried out organic brand Green People's lipstick and mascara (www.greenpeople.co.uk). Here's a look at how I got on...
The brand
Classified as organic by certification body Ecocert, Green People's collection provides a natural alternative to chemical-based makeup. Free from synthetic irritants, the products are suitable for all skin types - including those that suffer from sensitivity, acne, eczema, psoriasis or rosacea. Definitely good news for this dry-skinned blogger...
The products
The first thing that struck me about the Green People products was the packaging. The more natural a product, the less stylish I expect the packaging to be – and yet this isn't the case when it comes to these beauties. The lipstick in particular could hold its own with a variety of designer brands when placed on a dressing table – and the mascara is sleek and chic enough for me to happily produce in public.
Both the Eco Lipstick and the Volumising Mascara are made without parabens, lanolin, alcohol or any of the other synthetic ingredients often found in similar products – making them a welcome break for my delicate skin. The packaging also highlights the fact that none of Green People's products are tested on animals – good to know if you like your beauty buys to be ethical ones.
The result
At first glance, the Cherry Eco Lipstick appeared a little intimidating for a day look. However, when swatched, the colour became much warmer, revealing a gentle shimmer - I think I could happily wear it during the day as well as at night. Unlike many lipsticks, this one doesn't seem to be too drying – a particular bonus in winter. At £11.25, it won't break the bank, either – and I'm now pretty tempted to give the Candyfloss shade a go, too.
When it came to lengthening my lashes, I was pleased to see that the Volumising Mascara went on easily, without any clumping or unwanted spider lookalikes. Its effect was, however, fairly subtle - enhancing my natural lashes rather than giving a dramatic appearance. I would recommend this product primarily to those looking for an understated day look, ideal for spring.
Using the Green People products, I definitely felt less guilty than I normally do when reaching for cosmetics. I enjoyed being able to enhance my appearance temporarily without having to worry about the long term effects the products would have on my skin, and will definitely be investigating more of the range in future.
Want to achieve beautiful, on-trend looks without damaging your skin? Why not book yourself in for a makeup treatment and ask your makeup artist for advice on natural products.