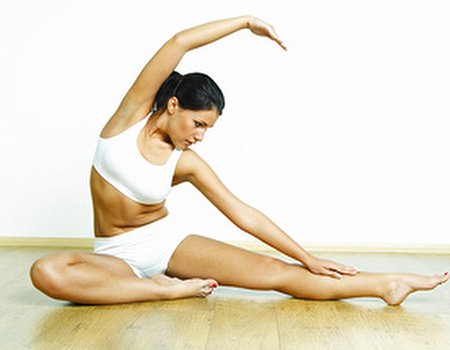 Can't afford an expensive gym subscription? Or maybe you're looking for a flexible fitness solution that can help you to work out at home and on the go... HealthClubTV lets you select and download exercise videos, allowing you to build your own personalised workout. No more need for those sweaty communal changing rooms...
Having recently become a bit of a yoga bunny, but finding it difficult to fit classes into my schedule, I leapt at the chance to try out HealthClubTV's clever videos. Armed with a username and log in, and with my husband and cats under strict orders not to disturb me, I prepared for a half hour of indulgent me-time. Here's how I got on...
The idea
HealthClub TV is an online resource that offers a wide variety of different exercise clips, covering areas such as stretching, dancing, aerobics and my personal favourite, yoga. There are also physiotherapy exercises and routines suitable for practising in a hotel room – great if you often find yourself away from home on business trips.
To begin your workout, all you need to do is browse the collection of videos, pick your favourites and download them. You can then combine different exercises to create a workout tailored to your needs – whether you're just starting out or are a real fitness fanatic.
The exercises
As I was exercising at home, I chose to run my videos on my laptop – however, HealthClubTV also have an easy to use iPhone app for those who want their fitness solution to travel with them. Once logged in I found it easy to select my videos and combine them, leaving me with a great new workout to sink my teeth into.
As well as enjoying the opportunity to try out some poses that were different to my usual routine, I liked the fact that I could choose the intensity of my workout. I was recovering from a cold when I began, so I mostly selected some gentle exercises – although I included some harder ones as a challenge. Sadly, my lurgies had other ideas, and my sun salutation was a massive flop. No matter, though – I was simply able to click to remove this more testing clip before resuming my sedate session.
The result
After my first HealthClubTV yoga session I felt nice and relaxed, with all my aches and pains soothed away. When combined, the different videos really did manage to stretch each different part of my body – not at all bad for a relatively short workout.
Those who like to have a bit of reassurance and motivation when exercising may not find this method suited to them. If, like me, however, you like your fitness to fit around your life rather than the other way around, then you're sure to appreciate the flexibility HealthClubTV provides.
Intrigued? Find out more about HealthClubTV and the range of videos offered at www.healthclubtv.com. More of a classes person? Check out our yoga, aerobics and Body Step pages for instructors near you.