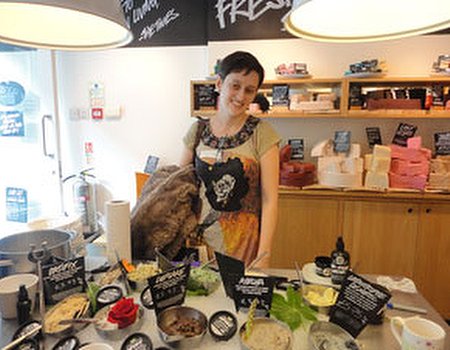 Back at the beginning of February, Wahanda's lovely Head of Copywriting, Mel, wrote about an exciting new collaboration between high street heroes LUSH and tea favourites Clipper. The two had teamed up to offer tea drinkers a chance to pamper themselves at a free facemask workshop – an opportunity that I just couldn't bring myself to miss out on.
As a fan of green tea and a LUSH obsessive, I found the offer to attend the workshop a bit of a no-brainer. I went along with good friend Emily for an hour or so of playing with products, sipping on tea and of course chatting with the lovely LUSH girls about all things beauty-related.
The offer
If, like me, you're not gifted when it comes to organisation, you'll be glad to know that booking in for the experience was easypeasy. All we had to do was purchase two promotional boxes of Clipper green tea, book via www.lush.co.uk/clipper-tea (using our unique codes), and we were ready to go.
Redemption of the codes entitled us to a free workshop, which would instruct us on how to make LUSH's popular Catastrophe facemask, in addition to a cup of Clipper green tea and a free pot of facemask to take home. We couldn't think of a better way to spend a girly morning out – and so we headed to LUSH's South Molton Street branch on Saturday to get stuck right in.
The workshop
The workshop took place in the shop itself, and was led by lovely LUSH assistants Pippa and Jade. There were three of us in attendance, so the atmosphere was an informal, friendly one – we sat down to watch Jade talk us through making the mask whilst Pippa kindly poured us a cup of green tea.
LUSH facemasks are made entirely from fresh ingredients, and the concoction we created looked so good that it was hard to resist giving it a taste (but don't worry, we somehow did resist). First, Jade crushed some fresh blueberries, to which she added essential oils, talc, calamine powder, Irish Moss gel and glycerine. As we all gave it our best shot at stirring, the mixture began to resemble the pots of Catastrophe that are sold on ice in the store – and we started to feel pretty proud of ourselves.
As part of the workshop, we also received a full facial using LUSH products - a pleasant surprise. Pippa and Jade discussed our skin types with us and what we were hoping to achieve, before applying cleanser and then putting on the blue Catastrophe face mask. We had a good laugh at ourselves (and the builders outside the shop window did, too) and then it was time to remove the mask - before being treated to toner, serum and moisturiser.
The result
Not only was the workshop a great way to have some fun on a sunny Saturday morning, but we also relished the opportunity to learn more about LUSH products. Being given the chance to take part in making the facemask helped to emphasize the fact that these fresh products really are completely free from synthetic nasties – always reassuring when you're going to smear something on your face.
We really enjoyed the opportunity to learn more about LUSH's skincare range – particularly the refreshing Eau Roma toner and luxurious Gorgeous moisturiser. Needless to say, we left the shop with squeaky clean, pampered skin - and we'll definitely be trying to recreate the look at home with our own handmade Catastrophe masks.
Fancy trying a little of the LUSH magic for yourself? If you can't make it to one of the Clipper workshops, why not consider a trip to London's LUSH spa – it's the perfect place to experience some TLC with a twist.