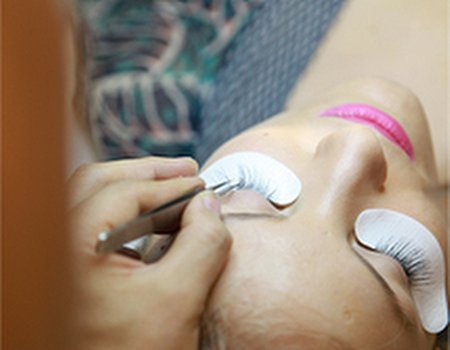 We all want glamorous lashes that look like they're straight out of a mascara advert – unfortunately, transforming yourself into a smouldering siren can be easier said than done. Fed up with mascara clumping your lashes together? Sick of gluing your eyes shut when applying falsies? It's time to celebrate JINNYlash, a simple and pain free way of getting the lashes you've been lusting after. Intrigued, I headed to the Bond Street salon to see what all the fuss was about.
The venue
There are currently 3 dedicated JINNYlash salons in the UK, situated in New Malden, Kingston and London's Bond Street. I headed to the Central London branch to try this pioneering lash treatment, originally developed by beauty guru Jinny Coffey. Having never experienced lash extensions before, I had absolutely no idea what to expect.
Stepping off busy Oxford Street and into the tranquil JINNYlash salon, I found myself feeling as though I had stepped through a portal into another (much more appealing) world. The salon is decorated in pale colours, lit with soft lighting and silent apart from some soothing music – not the chatty, bustling beauty salon I had expected. There are three partitioned treatment areas, each equipped with a massage-style table for clients to lie on during the session. I took my place in one of the areas, and my therapist came to talk me through the treatment.
The treatment
JINNYlash extensions are handmade from a silk/polyester mix, giving them a lightweight and natural finish. During a JINNYlash treatment, a certified technician uses a hypoallergenic lashbond to attach each extension individually to the natural lashes. A selection of lengths, curls and thicknesses are available, so that you can choose the lashes that will best suit your everyday look.
I was pleasantly surprised by how relaxing the JINNYlash treatment was. The whole process took an hour, during which time I was so comfortable lying down with my eyes shut that I nearly fell asleep. I normally hate anyone touching the area around my eyes, but in this case could barely feel a thing as the therapist added the lashes. After the treatment, when I'd been shown my luscious new lashes and reluctantly taken myself back on to Oxford Street, I was so relaxed I even found it difficult to walk in a straight line – an effect I normally only get after a good long massage.
The result
The lash extensions blend in perfectly with my natural lashes, boosting them in length and thickness without looking over the top or ridiculously fake. They look great without make up, as well as with a coat of the special JINNYlash masacara, which has been carefully designed so as not to damage the extensions.
JINNYlash extensions can last for up to 4 weeks if treated properly, depending on the natural shedding cycle of the lashes. JINNYlash recommend that customers avoid using oil-based make up and cleansing products, as these can cause the lashes to fall out. It is also recommended that you use the JINNYlash conditioner regularly to help keep your natural lashes long and strong.
Want to put some life in your lashes? Get your peepers some fabulous fringes at one of the chain's innovative salons and save yourself a month of applying mascara. Perfect!