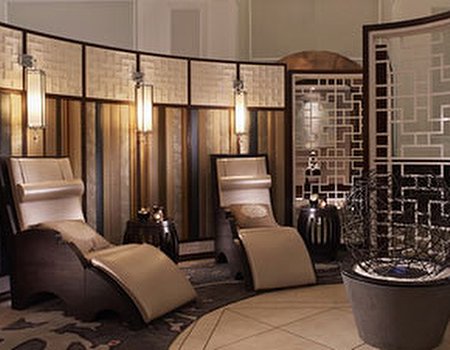 Looking to indulge? It's hard to find anywhere more luxurious than the Chuan Spa. Situated on London's Regent Street, this Feng Shui themed venue (named after the Chinese word for flowing water) promises a touch of the Orient to all of its visitors. Intrigued, I left behind the Fitzrovia office for an hour or so and prepared to step into another world...
The venue
Located inside London's 5 Star Langham Hotel, the Chuan Spa is everything you would expect from a high quality spa – and then some. From reception I was politely escorted to the well-equipped changing room, where I was able to change into a robe and slippers prior to my treatment. I then spent some time unwinding in the beautiful relaxation area – a tranquil space with oriental-inspired screens and elegant lighting. I could happily have nodded off here, but after a short while my therapist arrived to show me to a treatment room for my back, neck and shoulder massage.
The area of the spa where the treatment rooms were was lit with candles and accompanied by the sound of running water – making me forget completely that I was still in London's busy centre. Once in the treatment room itself, I was met by the refreshing smell of aromatherapy oils, which immediately started to help me unwind. My therapist then asked me to lie down on my front on the massage bed, so that he could work on easing tension in my back, neck and shoulders. What was to follow would be the firmest massage I have ever had in my life....
The treatment
I'm no stranger to massages, but have mostly only encountered the kind which encourage you to drift off into a relaxed slumber. There was to be no drifting during this massage, however. My therapist used a firm, hard pressure to manipulate the joints and muscles in my upper back and behind my shoulder blades, as well as using his hands to straighten and elongate my neck. He explained to me that I have a particularly bad knot on the right side of my neck, and played particular attention to this area to try to alleviate it. The pressure took a little getting used to - but after a while I was able to relax into it and to feel the tension slipping away.
The result
The therapist's firm touch paid off – at the end of the massage the muscles in my neck, back and shoulders felt looser, and I found myself sitting more comfortably at my desk when I returned to the office.
Overall, the tranquil setting of the spa left me feeling relaxed, re-energised, and more than a little spoilt! I look forward to returning to the Chuan Spa in the future to use the swimming pool and unusual salt sauna – both of which looked incredibly tempting.
Fancy unwinding, Feng Shui style? Browse the menu on our Chuan Spa page for details of pampering packages and you, too, could find yourself transported.