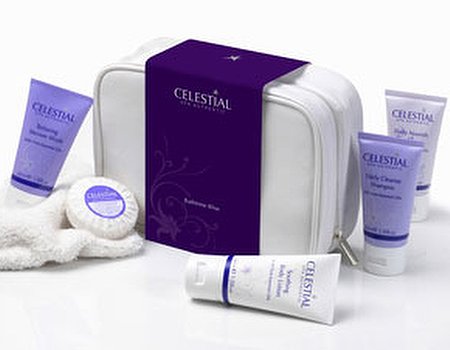 Ever feel like there aren't enough hours in the day? Between work and play, many of us find ourselves without much time to relax. Luckily, you don't need to devote a day each week to unwinding at a spa – do a little research, and you'll be able to find the perfect pampering products to save you time and money. Hooray!
On my quest to find stress-busters that could be easily fitted into my daily routine, I opted to give Nirvana Spa's Celestial range a go. Read on to discover my verdict...
The brand
Developed by the experts at Berkshire's innovative Nirvana Spa, the Celestial Spa Authentic range has been specially designed to harness the power of gemstones in order to help relax and rejuvenate. From facial products to body treatments and signature spa rituals, Celestial offers a variety of experiences that are ideal for combating the stresses and strains of everyday life. And it's not just about the gem extracts these pampering products contain (although I must admit, I love precious stones as much as the next girl) – they also make use of a variety of aromatherapy essential oils. Frazzled from battling my way home on the tube, I couldn't wait to give them a go...
The products
Designed for travellers who don't want to compromise on luxury, the Celestial Bathtime Bliss Kit is ideal for pampering on the move. Incorporating a shampoo, conditioner, shower wash, body lotion soap and bath mitt, the kit is housed in a sleek white wash bag – helping you to take your own spa experience with you wherever you go.
After admiring the wash bag (which is very roomy, and will come in extremely handy even once the products have been finished up), the first thing that struck me about the Bathtime Bliss products was their incredible scent. The lavender essential oils used are strong without being overwhelming, and in themselves go a long way towards encouraging a sense of relaxation. I'd particularly recommend them to anyone having trouble sleeping – bathe with this lot before bedtime and you'll be out like a light.
The products were all very easy to use – the body lotion absorbed like a dream and left my skin feeling wonderfully nourished. I also liked the addition of the flannel bath mitt – nice and soft to compliment the gentleness of the products themselves.
The result
Not only did I smell heavenly after my encounter with the Celestial Bathtime Bliss Kit, but I also felt deeply relaxed and even ready for a bit of a snooze! The lavender essential oils are a brilliant touch which set this kit apart from other, more synthetic smelling products on the market. I also love the idea of taking my own aromatherapy spa treatment with me, whether to stay with friends and family or in a plush hotel. After all, why should we give up home comforts whilst on our travels?
Like the sound of this tempting treat? Take advantage of tomorrow's Spotlight Offer and you'll enjoy an incredible 50% off the Celestial Bathtime Bliss Kit. We reckon it'll make a fantastic Mother's Day gift – if you can bear to part with it, that is...