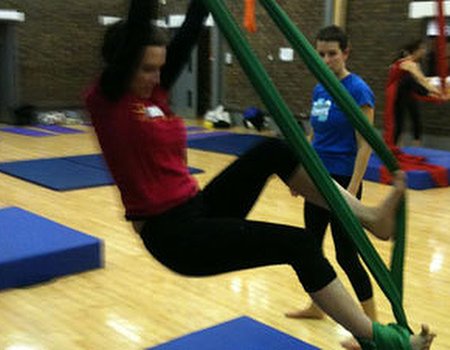 I'm not usually one to push my boundaries when it comes to exercise classes – I'm much more likely to be found pedalling away on the exercise bike or going for a quick jog. So I managed to surprise even myself (let alone incredulous friends and family) when I signed up for an aerial silks class at the unusual Flying Fantastic in Battersea (www.flyingfantastic.co.uk).
Determined to challenge myself, get a bit fitter, and of course become the subject of an embarrassing photo to share with you all, I packed my bag and, with all the grace of Nelly the elephant, headed off to the circus...
The venue
All Flying Fantastic classes are held at the Wilditch Centre in Battersea – a quick bus ride from Battersea Park Station. Lessons are based on circus skills, and intrepid exercisers can choose from aerial silks, aerial hoop or silk slings. Classes can be booked in courses of 6, or, if you just fancy getting a taste of flying, you can sign up for a one-off lesson. Accompanied by my friend Emily, I put my name down for the latter to see if I had what it took to become the next big thing at Cirque du Soleil.
The class
As it turned out, I didn't. The class began with a warm up, during which we were required to perform a variety of different stretches whilst sitting and standing on mats. It was at this point that I realised everyone else in the room was able to touch their toes, capable of practically doing the splits and in general much more flexible than yours truly. It was set to be an interesting hour and a half.
We were divided into groups and allocated a silk (a long silk rope hanging from the ceiling). There were six of us in the beginner's group – all, as it turned out, of varying natural ability. Our patient instructor Juliette set about teaching us some of the basic moves involved in aerial silks performance. She talked us through them before demonstrating herself (and making it look surprisingly easy). She also showed us how to apply rosin to our hands to give them better grip on the silks and stop us from slipping.
First up was climbing the silk – much, much harder than it sounds (well, for me at least). My friend Emily managed to leg it up there like a monkey, but the rest of us found ourselves rather challenged, and mostly slithering straight down to the bottom again. And the session wasn't going to get any easier – we were to find ourselves being flipped upside down, hauling ourselves up using our arms and hanging by a silk round our waist. By the end of the class I definitely had a new found respect for aerial performers – they must have muscles of steel.
The result
As well as being a fun way to keep fit (and a great way to meet people – everyone was lovely), the class provided a thorough head to toe workout. There were no muscles that didn't get used during the time on the silks – something that I'm only too aware of the day after! Although the website says that people of all levels of fitness are welcome, you may struggle if you're not used to exercise – but go a few times and I'm sure those muscles will start to strengthen up.
Fancy unleashing your inner circus star? Aerial silks is just the beginning – you could also try trapeze, acrobatics and hula hoop. Well, it certainly makes a change from hopping on a treadmill...