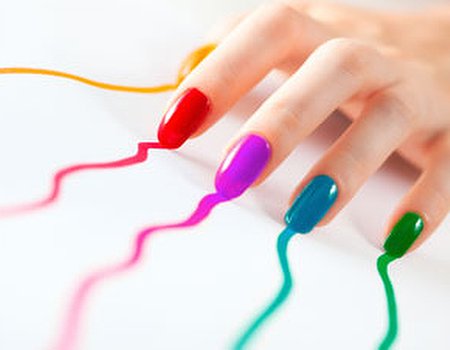 We've come a long way since the early 20th century, when red nails were de rigeur and plain polish was the only way to express glamour. Today, celebrities and manicurists are regularly to be seen pushing the boat out with intricate nail designs, ranging from pretty patterns to playful expressions of pop culture. Forget the vibrant reds and corals sported by stars such as Marilyn Monroe – these days, you're much more likely to spot tuxedo nails à la Zoey Deschanel or an evil eye mani à la Alexa Chung on the red carpet. But just how DIY-friendly are these designs?
The answer is, very – providing you've got the patience to do your homework first. Unlike a simple coat of red, a detailed pattern can take several attempts to perfect – but the skill involved and the enjoyment derived will be more than worth it. Just make sure you've taken on board our advice on the three Ts (tools, tips and trends) and you'll be creating your own marvellous manicures in no time...
Tools
No budding nail artist should be without the tools of the trade. Stock up on this lot and you'll be ready to create a new look whenever the inspiration strikes you.
Files and buffers – Before you can get painting, you need to prepare the canvas. Use a file to get your nail into shape and a buffer to smooth and add shine.
Polish – In order to create a wide range of looks, you'll first have to stock up on lots of different colours of polish. It's a great excuse to go shopping, but try not to get too carried away – think about which colours you're most likely to use as well as which shades are currently on trend.
Brushes – There are lots of different brushes available from nail art stores to help make intricate work a doddle. You can also get special tools designed to help create dots and stripes, so that you can incorporate all sorts of patterns into your manicures.
Nail art pen – Nail art pens are ideal for adding detail to designs. Easier to manipulate than a brush, pens are a good place to start if you're not very experienced.
Stickers, rhinestones and decals – There are thousands of different decorative items available to experiment with, from glitter and beads to gems, decals and glamorous foils. Your imagination really is the limit...
Tips
Psst – we've got a few handy hints to help you get started:
If you're new to nail art, start with the simple. There's no need to jump in at the deep end - spots and stripes can be just as effective as the most intricate of looks.
Always use a good base coat and topcoat to help prep the nail and seal your designs, making them last longer.
Don't have a nail art pen handy? Try drawing on designs with a thin-tipped liquid eyeliner and finishing with a slick of top coat.
Trends
Need some ideas and inspiration? Have a browse of the following:
YouTube and blogs – There's a huge community of nail art bloggers and YouTubers out there, if you know where to look! Stay tuned for an article on some of our favourites later in the week.
Pinterest – There are lots of great nail ideas over on Pinterest, so if you've not yet signed up then pop it on your to do list! Don't forget to follow the Wahanda nails board for plenty of gorgeous designs.
Expert advice – when it comes to outlining Fashion Week trends, no one can do it better than the man whose team put together many of the looks. We asked manicurist to the stars Leighton Denny to tell us his favourite spring nail trends – and he didn't disappoint...
Still feeling bit daunted by nail art? If you think it's best left to the professionals, then make sure you have a look at our manicure and pedicure offers – you'll have fabulous fingers and trendy toes before you know it.