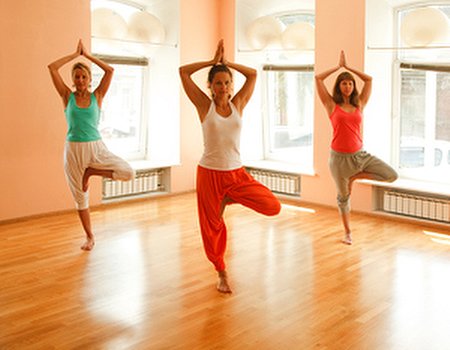 Unroll your mat and start practising those mantras – we reckon yoga classes are the perfect way to start the New Year. Not only does yoga give you the chance to focus on yourself every now and again, but it also provides a multitude of physical and mental benefits – from improved posture and flexibility to reduced stress and better concentration. Well, what are you waiting for?
Unfortunately, although it's easy to make the decision to incorporate yoga into your life, it's not always as easy to choose which sort. With 40 different types of yoga listed on the site, there's no denying that you've got plenty of choice – however, for many beginners, the sheer variety can be a bit daunting.
With this in mind, we've picked some of our favourites to introduce you to a few different forms of yoga. From the traditional to the unusual (snake yoga, anyone?) we've got all bases covered. Why not follow this useful guide to help you make a decision you'll want to stick to, or alternatively have a browse of all of our different yoga types.
Aqua yoga
Make a splash with this water-based class which sees participants practising traditional yoga movements in a pool. A low impact activity, aqua yoga sessions are ideal for those who are pregnant or recovering from injury.
Bikram yoga
Turn up the temperature. Bikram yoga classes take place in a room heated to 40.5 degrees, encouraging sweating and helping to purge the body of toxins. Just make sure you take a towel...
Face yoga
Enjoy pulling funny faces? Now you can do so in the name of exercise. Not only can practising face yoga help to ward off the wrinkles, but it can also help you to relax and de-stress – always a good thing.
Kundalini yoga
Focussing on the release of pent up energy, Kundalini yoga aims to stimulate the chakras and focus the mind. This form of yoga incorporates meditation, breathing techniques and mantras for a varied experience. You can find out more by having a read of our Kundalini yoga tried and tested blog.
Laughter yoga
A new form of yoga, this funny bone tickler made its debut in 1995. Since then, laughter classes have become popular across the world. The concept? Trigger fits of the giggles to alleviate stress and release endorphins. Who said exercise was no laughing matter?
Prenatal yoga
When you're pregnant, it's important to tailor your exercise regime to incorporate both your needs and the needs of your baby. Prenatal yoga can be performed throughout your pregnancy, helping to keep you calm and relieve any backache or discomfort. It's also a fantastic way to meet other mums-to-be.
Snake yoga
Ever felt there's something missing from your exercise routine? It could be a snake. A form of Kundalini yoga, snake yoga is also known as serpent healing and involves practising poses whilst handling these slithering reptiles. Doesn't immediately appeal to you? Why not ease yourself in to snakey treatments with a set of snakeskin nails – a little less intimidating.
At Wahanda, it's no secret that we're big fans of yoga – but we know it's not necessarily for everyone. If none of these activities float your boat, why not pay a visit to our fitness hub for exercise solutions that will fit into your life. After all, there'll be a lot of mince pies to work off come January...