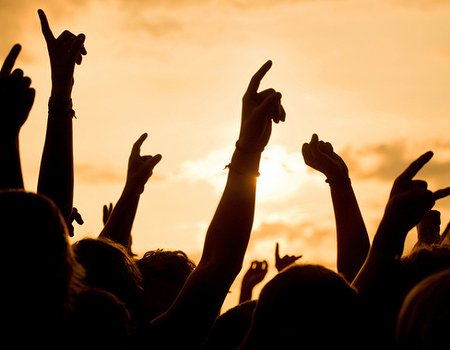 Calling all festival bunnies - it's that time of year again. You're preparing to pitch your tent and rock your stuff to some great music (with a cheeky glass of cider or two of course). But festivals aren't just about bands – they're also a chance to show off how cool you are in the style stakes. Read on for some great tips to get you looking effortlessly glam in time for those festival frolics...
Let your hair down
Festivals are a chance to experiment and to try out a look you might not normally go for. To really stand out from the crowd, unleash your wild side and ask your colourist to dye your hair a bold shade such as red. If that sounds a bit too drastic for you, you can always keep it au naturale – just make sure you get a good conditioning treatment to really lavish attention on your locks.
On the lash
When you're in a field and there aren't any mirrors around, the last thing you want to be fretting about is your mascara. Get a set of lash extensions before you go and you'll have pretty peepers the whole time – with no maintenance needed at all.
Nail it
You're out of the office for a few days so it's time to have fun with those nails. Add a bit of bling with some glitter or rhinestones or choose a bright colour to really make your nails pop. It's best to go for a gel manicure or acrylic nails as these will last longer than an ordinary manicure – meaning you'll still look pretty and polished even when it's time to dismantle your tent.
Go for gold
Unfortunately, we can't rely on the sun in this country - if you want to complement that white tee with a golden tan then it's best to get some help from the experts. A professional spray tan will ensure your legs are streak free – perfect for baring in some new shorts. Alternatively, you could try a Sun Angel treatment – this nifty machine prevents you from overexposure so that you won't end up looking like a lobster.
Wallow in it
Not going to a festival but still fancy getting a bit muddy? Why not try a rasul mud treatment. It'll relax you and do wonders for your skin – with not a pair of wellies in sight.
If you want to save some pennies when you are getting ready (who doesn't?!) then make sure you check out our great hair and beauty deals.