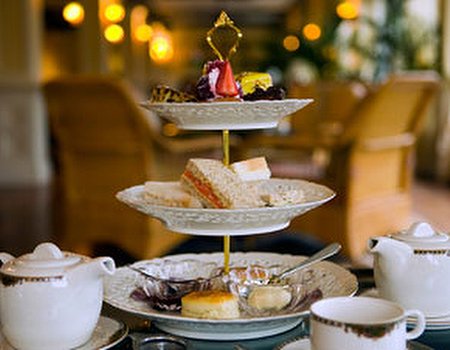 We're firm believers that a cuppa can sort most things – and it looks like it might even go a fair way towards sorting your Mother's Day present dilemmas, too.
Now, we're not suggesting that a mug of builder's tea is a good substitute for a proper gift (our mums wouldn't be very impressed by that, and we expect yours wouldn't either). However, we have got lots of suggestions for slightly more feminine brews that are pretty certain to put a smile on Mum's face this March.
Whether you want to make her a nice cup of tea to enjoy at home whilst she opens her gift or are hoping to surprise her with an indulgent day out, we've got lots of ideas to get you going. Why not be inspired by one of these:
The girly tea
At home: We love the Harmonise tea blend from Pukka (www.pukkaherbs.com), which contains rose, hibiscus and vanilla to rejuvenate, in addition to chamomile to soothe and restore. It comes in pretty pink packaging, too – so it's bound to be a winner.
Off out: For a glamorous, girly experience, head to Asase Spa at The Lanes, Brighton, and take advantage of their Cake, Tea and Pamper Package for two. For just £49, you and your mum will both be able to enjoy an express facial and a Shellac manicure, as well as indulging in some tea and cake. Mmm, we love a bit of cake...
The unusual tea
At home: We've recently become rather hooked on the complex flavours of Kenyan Tea (www. www.teaboard.or.ke/). Why not take a (tea) leaf out of our book and try blending different types of tea, or mixing up a warming Kenyan Chai to really impress your mum.
Off out: It may not come cheap, but a luxury afternoon tea and spa package at the Langham's Chuan Spa has got to be the ultimate Mother's Day gift. Treat her to some well deserved pampering and she'll enjoy use of the state-of-the-art facilities, a Chuan Body Elements treatment, a Chinese tea ritual and afternoon tea with a choice of over 50 different brews. Let's just hope she's not as indecisive as we are!
The virtuous tea
At home: We're fans of Cho-Yung's green tea health blend (available from www.hollandandbarrett.com), which is high in antioxidants. Packed full of nutritious and tasty ingredients such as lotus leaf, oolong tea, honeysuckle and hemp seeds, it's sure to be a hit with any health-conscious mum.
Off out: Hillmotts are offering a fantastic 60% off any luxury 1 hour treatment with a free cream tea – ideal for Mother's Day. However, those who are watching their weight or trying to be saintly needn't worry – there's also the option of choosing a detoxifying smoothie. We know which we'd go for, but each to their own...
Like the idea of treating your mum to a spot of afternoon tea and pampering this March? We've got plenty more suggestions where these came from – just have a gander at our Mother's Day gift ideas page and you can't go wrong.