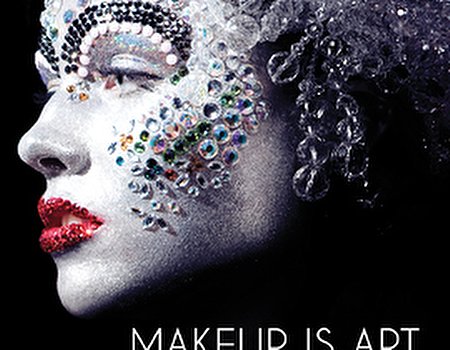 Last week I brightened up a rainy day with a trip to the Academy of Freelance Makeup (AOFM). Situated on Soho's stylish Dean Street, the academy is arranged over several floors and boasts plenty of facilities to help budding makeup artists learn the tricks of the trade.
AOFM was founded by Jana Ririnui, who felt that existing makeup training courses failed to give students a sufficient working knowledge of the industry they were about to enter. He wanted to create an environment where students could meet a variety of different makeup artists working in editorial, catwalk and advertising. The idea was to expose students to a myriad of styles whilst providing them with some useful contacts for the future – vital for breaking into the industry after completing a course.
On arrival at AOFM (and after meeting the academy's resident chihuahuas) I was given a tour of the two makeup studios. Doubling up as photography studios where students can learn to create editorial looks, the rooms are airy, spacious, and immaculately tidy. The walls are lined with mirrors surrounded by light bulbs (the sort that every little girl craves when growing up) and the makeup used during classes is neatly stored in large white drawers.
Lauren, graduate of AOFM and practising makeup artist, explained that courses at AOFM can last from 6 days to 4 weeks, depending on the level of training that the student is looking for. During this time students will benefit from having a different teacher each day, providing them with plenty of inspiration and advice as they learn to hone their existing skills and develop new ones.
Students at the academy are taught all aspects of makeup artistry, from the basics to more exotic skills such as body painting. They are also taught the less glamorous but essential skills of keeping their work space tidy, shopping for their kit and managing their finances as freelance workers – all part of Jana's plan to ensure that his students aren't thrown in at the deep end when they leave. Lauren also explained that students are given work experience through the academy after graduating, helping them to make a name for themselves in the fashion world and develop an impressive portfolio.
After a chat with Jana and Jason (who helps to run the business side of the academy) I was given the opportunity to flick through Jana's beautiful coffee table book, 'Makeup is Art'. Full of stunning images the book is a great example of how staff and students at AOFM think outside the box to create makeup looks that scream high fashion.
To round off a lovely morning I was treated to a quick makeover by Lauren before heading back to the office. I was amazed by how quickly but accurately she worked, creating an understated but flawless look that was perfect for daytime. It made me vow to make more effort with my makeup when I roll out of bed in the morning!
If like me you have been inspired by AOFM to start taking your makeup more seriously, you can step up your game with our deals and offers on makeup treatments.