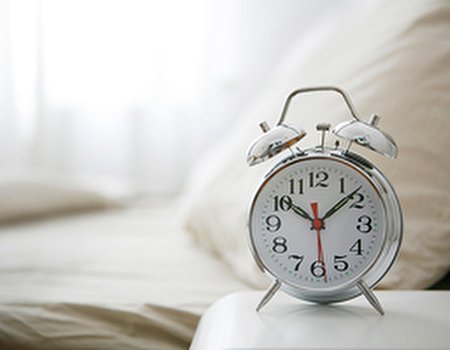 Good news everyone – the clocks go back at the end of October, which means we all get an extra hour in bed. But can one hour really make up for bad sleep habits?
Getting enough shut-eye is vital for maintaining good concentration, energy levels and mental stability. Unfortunately, busy schedules and high stress levels mean many of us aren't getting the zzzs we need.
Looking for some ideas to help you nod off? Grab your favourite PJs and a nice comfy pillow and have a go at these...
Run a relaxing bath
People have been using lavender for centuries to help soothe the mind and prepare the body for sleep. But how exactly can flowers affect our ability to drop off?
Jennie Harding, aromatherapist for Tisserand, says: 'Emotionally, essential oils are inhaled via the nose and affect the limbic system – the brain's inbuilt smell response mechanism. The aromas of essential oils have immediate effects on mood, emotions and feelings – just by smelling them. Apart from creating a pleasing smell, the aromas of essential oils are inextricably linked to the user's personal experience, triggering memories and feelings, such as relaxation and tranquillity…which can aid sleep.'
Feeling in the mood for something floral? Why not add some Tisserand De-stress Bath Soak (www.tisserand.com) to your bath, or brew yourself a calming cup of lavender tea.
Stretch the stress away
Stretching is a fantastic way of relieving tension, leaving you feeling loose, limber, and ready for a good night's sleep. David Arnot of Pure Gym has some great tips for stretches you can add to your evening exercise routine:
Spine Stretch - Sit on the floor with your legs out straight in front of you. Reach your head up to the sky whilst keeping your shoulders low and relaxed. Inhale and extend your arms out in front of you at shoulder height. Exhale whilst slowly reach forwards towards your toes, allowing your spine to make a C-shape. Once at the end of the movement, inhale again to increase the fullness of the stretch. Exhale again and slowly begin to turn your pelvis upright, bringing your upper body to the start position.
Swan Stretch - Lie on your front with your hands on the floor under your shoulders. Your arms should be close to your body and your legs straight and together. Lift your belly button up off the mat - this will engage your abdominals throughout the stretch. Inhale and press with your hands to push your upper body away from the floor - keep your head in line with your spine and your hips should remain in contact with the floor throughout the stretch. Exhale and begin to return your body to the mat, whilst keeping your abdominals engaged. Do so in stages - return your lower abs first, then your upper abs, then your rib cage, then chest and finally your head. You can repeat this movement 3 times.
Like the sound of a calmer, more flexible you? Why not check out our deals on yoga and meditation.
Harness the power of herbs
Tried bathing and stretching but still find yourself counting sheep until the small hours? You may find a herbal remedy can help.
Pharmacist Prof. Liz Williamson, says, 'The first step is to work out what's keeping you awake. If it's stress, then you need a treatment to help you relax. Herbal remedies are gentle and can be brought over the counter. Try valerian or chamomile and lavender. If your insomnia is very bad, then your GP may prescribe a short course of sleeping tablets. These drugs can be very effective at getting you off to sleep, but aren't designed for long-term use. They don't treat the cause of your insomnia and may make you feel drowsy the next day. It's also very easy to become dependent, so you'll probably only be given enough tablets to last a few days.'
Want to give valerian a go? Nature's Best Valerian tablets are available from www.naturesbest.co.uk. You'll be having sweet dreams in no time...
Can't wait to wrap yourself in a nice comfy duvet and catch forty winks? We've got lots of deals and offers on sleep therapies and retreats to help get you snoozing.