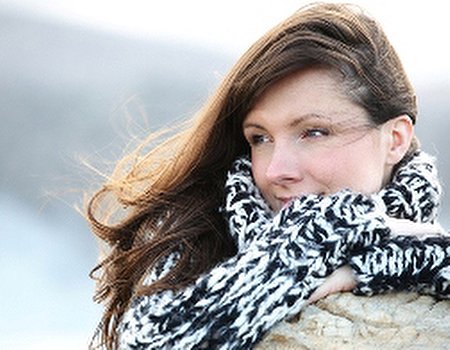 Got a sore throat? You're not the only one. Celebrities who have recently been put out of action by this health complaint include Adele, Lionel Richie, the Kings of Leon and even the Dalai Lama. Looks like being famous doesn't do much to help your immune system...
Ok, so the average person doesn't have to worry about cancelling gigs and disappointing fans when they get a throat infection – but that doesn't stop us from wanting to get better as fast as we can. Worried about rivalling Kermit for croakiness this winter? We've got some great tips from specialist Dr Mike Smith to help you conquer your sore throat before it conquers you.
Wrap up warmly
'Little hairs in our lungs and at the back of our nasal passage, called cilia, slow down in movement in the colder months. These normally waft upwards and outwards any particles that land on them. This means that an infection, or a build up of infected mucus and particles, is not wafted up and out of the body as efficiently as it would be in the warmer weather.' We think that's a pretty good reason to stay as snug as a bug in a rug...
Put out that cigarette
'Smoke is a major irritant of the airways and will thicken mucus and prevent infected mucus from leaving the body.' Having difficulty quitting? Why not consider hypnotherapy to give you a helping hand.
Stay away from other people
'This has nothing to do with passing on the infection to someone else. In fact, by the time you have the symptoms of a sore throat your body is already fighting the infection meaning you would have been at your most infectious up to 48 hours before your symptoms appeared. Keeping away from other people when you have a sore throat is mainly about looking after yourself. It limits the chance of other 'secondary' infections latching on to your now weakened immune system.' Feeling bored at home by yourself? Try practising yoga or Pilates to keep you busy.
Ditch the drinks
'Drinking heavily, in particular binge drinking, plays havoc on the respiratory process. Snoring, often brought about by a deep drink-induced sleep can dry out the throat, but more importantly interrupts the safe passage of oxygen to all the muscles in your body, including those in your throat which help to move particles out of the body efficiently and reduce the chance of an infection settling in.' Wine off the menu? It could be time to try a refreshing smoothie instead.
Stay alert for allergies
'Other causes of inflammation of the throat are from allergic reactions, where your body is stimulating more antibodies than it needs, which results in your body trying to fight them off. Common causes are allergies to pollen or animal fur, a reaction to pollution or smoke.' Looks like Fluffy will be sleeping in the kitchen tonight., then...
Tried all Dr Smith's tips, but still plagued by that sandpaper feeling? Whilst your body works hard to fight off the infection, you can soothe your sore throat with an anaesthetic throat spray. We recommend Ultra Chloraseptic's spray, available in blackcurrant, cherry, and menthol. Perhaps someone should tell the Dalai Lama about this...
Fed up with colds and sore throats getting you down? You can purchase Ultra Chloraseptic's Anaesthetic Throat Spray from pharmacies and supermarkets without prescription. We've also got plenty of deals and offers on nutritional advice and aromatherapy to help you ease congestion and strengthen your immune system.