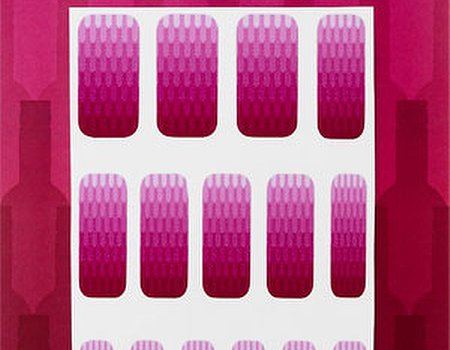 After a long day, there's no better way to unwind than with a glass of wine and a manicure. Many therapists now offer a tasty tipple alongside treatments, but don't worry if you can't make it to the salon – wine producers Gallo have made it easy for you to enjoy this indulgent experience at home. They've teamed up with SphinX Nails to create the first ever scented nail wrap, inspired by rosé wine. We know what we'll be doing on our next girls' night in...
Nail wraps have been popular for a while, with celebrity fans including Katy Perry, Beyoncé and Rihanna. Now, Gallo and SphinX Nails have taken nail art to the next level, introducing a fragrance-infused limited edition nail wrap designed to appeal to wine-lovers as well as beauty fanatics. With a tempting fragrance of plum, blueberry and cranberry (the aromas of the new Gallo Merlot Rosé wine), the pretty pink nail wraps are a fun, flirty way to jazz up your fingertips. Sounds good to us...
Worried that nail wraps might be too fiddly for you to apply? Luckily, Gallo and SphinX Nails have provided us with some simple instructions to help us become nail art pros in no time:
Prepare nails by buffing lightly to remove any shine from the surface
Cleanse nail bed with a nail cleanser or acetone
Select correct size of wrap to fit nail bed
Divide wrap in half widthways
Gently heat the reverse side to activate the adhesive (do not overheat)
Apply wrap to nail bed from the cuticle to free edge, smoothing outwards and upwards
Heat the surface of the wrap and secure further with a little pressure using fingertips or hoof stick
Trim excess, file sidewalls and free edge
Apply a thin layer of nail glue to the free edge
Each set of nail wraps is enough to beautify two sets of toe or finger nails, with a few spares – so you needn't worry if you mess it up a little the first time you try. Well, what are you waiting for? Pour yourself a glass of rosé and get preening!
Think that nail art is best left to the professionals? We've got lots of deals and offers on manicures and pedicures – some of which come with a complimentary glass of wine or bubbly. Or, if you're a serious wine lover, why not forget about your nails for the moment and try some vinotherapy instead?