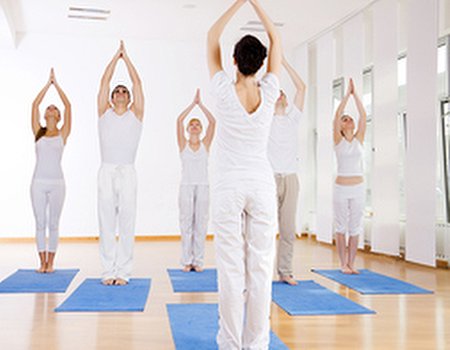 We don't know about you, but we're not very keen on this wet weather. Soaking feet and mayhem on public transport aren't our idea of a good time – so now that we've safely made it into the office, we're planning to stay put.
Stocked up on teabags and warming soup so that you don't have to leave the office this lunchtime? Why not take advantage of the time you've saved and ask a few of those questions that have been playing on your mind.
Whether you are unsure how long it's safe to spend in the steam room this weekend, or looking for advice on how to get over the lurgies, our helpful community has answers to all your winter wonderings. We only wish we could help you to dry out your shoes, too...
Not sure what sort of thing to ask? Here are some of the questions that cropped up this week:
Should I practise yoga when I've got a cold?
It can be frustrating when a cold interrupts your regular routine. Want to exercise but not sure if it's a good idea? Or maybe you want to take a bit of a rest but feel guilty about it? Our community of experts and enthusiasts has your best interests at heart – take their advice on board and hopefully you'll conquer the snuffles in no time.
What are the best foods to keep protein levels up?
We're the first to advocate a balanced diet – but we also know that eating healthily is often easier said than done. Not sure if you're getting enough of the nutrients you need? Just give us a shout – or community will have plenty of ideas and tips to help set you on the right track.
I have a damaged toe nail – should it be removed and who would do this?
We thought this one sounded particularly painful. Of course, in case of illness or injury your first port of call should always be your doctor – however it's always worth asking our community's opinion too. You never know, someone may have had a similar experience...
How many laser sessions are needed to remove hair in the bikini area or underarms?
Fed up with shaving and want to try frying the fuzz instead? If you are interested in laser hair removal but don't know how many sessions you'll need to get the results you're hoping for, look no further. For quick and easy answers to therapy queries, check the information on our treatment pages or head to the community page and get typing.
Need even more distractions this lunchtime? Why not settle down with a cup of tea and a sandwich and spend a few minutes reviewing your favourite salons, spas or gyms. You could always take some time to browse our spa breaks, too – anything to bring a bit of cheer to a gloomy day.