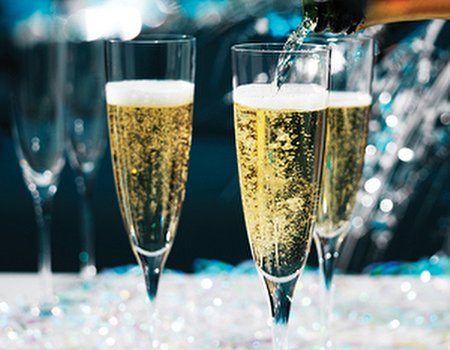 At the swanky new Wahanda HQ, we're all getting pretty excited about Christmas. We've got lights up, silly festive headbands on and even Christmas pudding flavoured brownies (the detox begins soon - promise.)
But before we head off for a weekend of turkey and tinsel, we want to make sure that we're nice and ready for New Year. After all, the week after Christmas tends to flash by in the blink of an eye – so we reckon it's best to prepare in advance.
Being the beauty and wellbeing nuts that we are, we've been planning our haircuts, manicures and makeup treatments ready for our New Year's Eve celebrations, not to mention our detox and fitness regimes. However, we've still found time to turn our attention to all your health and beauty questions – so that you won't find yourself panicking as 2012 approaches. 'Tis the season to be jolly, after all...
What is the quickest way to get over a hangover?
It's the question that's been on all of our minds. From champagne and mulled wine to Baileys and port, there's no denying that, for many, Christmas Day is the booziest day of the year. If Boxing Day tends to see you sofa-bound and clutching your head, you may want to have a read of our experts' tips on how to get over a hangover. From drinking lots of water to topping up on vitamin C and even trying Ayurvedic practices, we've got plenty of suggestions to set you right again. Phew...
What's the difference between herbal medicines and organic?
With so many different products and labels on the market, it can be difficult planning your New Year's health routine. Luckily, our experts and enthusiasts are on hand to help clear up any confusion. Not sure what the difference between two terms is? Just shout – we'll be more than happy to assist.
Were you happy with Dracula therapy and how long did the results last?
It's a spooky sounding treatment that's well suited to Halloween, but many people will also be considering Dracula therapy to get their New Year off to a good start. Helping the skin cells to regenerate, S3 therapy (as it's also known) can help the skin to look smooth and glowing – the perfect blank canvas for exciting new makeup looks.
I have mixed-race hair (very thick and curly!) – would a Brazilian blow dry work on my hair?
If you're planning on dancing your way into 2012, a Brazilian blow dry could be just the thing to get your hair looking party perfect. Whatever your hair type, this treatment will leave your tresses soft, shiny and above all manageable – great news if your fronds are prone to a bit of frizz.
Well, all that remains for us to say now is: have a great Christmas, enjoy the festivities and make sure you save us a slice of that Yule log...
Already thinking ahead to your New Year's resolutions? We've got lots of fitness deals and offers to help you out – and we'll also be blogging some exercise and nutrition tips next week. No need to thank us - just don't forget about the chocolate log...