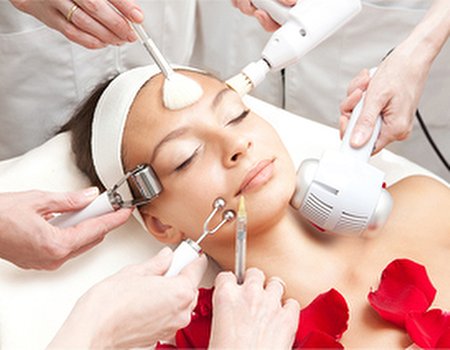 As we watched Jedward enter the 2011 Celebrity Big Brother house, we could only focus on one thing – their hair. At Wahanda, we love a bold barnet - but we can't help thinking something a little more subtle might have been ideal for a stay that could last three weeks. We hope they've got enough hairspray in there...
With the nation watching you day and night, grooming in the Big Brother house is no picnic. It's important to look good for the camera, but you don't want to be caught clipping your toe-nails (or worse still, performing a DIY bikini wax). We've been thinking about all the long-lasting beauty treatments we would have recommended to Jedward, Kerry Katona, Tara Reid and co before they entered the house – if only they'd asked. We bet they're kicking themselves that they didn't consult us first...
Two week manicure
There's usually at least one cat fight during the series, so we think all housemates should make their claws a priority. A two week manicure will give you flawless chip-resistant nails – and with a bit of luck they'll still be looking good by the time eviction night rolls round.
Semi-permanent make up
If you're anything like us, you probably hate doing your make up in public. Why is it that the moment someone is watching, you instantly lose the ability to apply eyeliner without woeful wobbles? Semi-permanent and permanent make up treatments put paid to your morning make up routine, so that you don't have to put your cosmetics skills to the test while the world is watching. Phew!
Hollywood wax
From fuzzy legs in winter to the occasional bit of neglect down below, we're all guilty sometimes of the 'out of sight, out of mind' mentality – and mostly we get away with it. For celebrities, however, it's a whole different ball game. Remember folks: that footage won't go away - one accidental slip of the bikini when climbing in the hot tub and you will forever be labelled as horrendously hirsute. We recommend a Hollywood wax to all would-be Big Brother housemates for a bikini line that remains super smooth for up to four weeks.
Inch loss wrap
They say that the camera adds ten pounds – so before going into the Big Brother house we'd definitely be looking for a weight loss quick fix. An inch loss wrap will help you shift at least 6 inches – an effect that can last up to a month. Time to squeeze into that ridiculously tight dress for the opening show...
Hair conditioning treatment
Jedward might think that the hair-raising look is best, but we prefer to flatten the frizz and keep our locks looking nice and silky. Having a hair conditioning treatment before entering the house would give the contestants super smooth tresses and reduce the need for products during their stay. If only someone had told the twins...
Lash extensions
Mascara can be fiddly at the best of times, but who wants to waste time on volumising their lashes when they could be having a moan in the diary room? Semi-permanent lash extensions last for 4-6 weeks and will give you lashes as HD as the TV people are watching you on. That's one to remember for your next appearance, Sally Bercow...
Can't understand what all the fuss is about when it comes to Big Brother? Why not get out of the house when it's on and treat yourself to a relaxing massage. That way you won't have to put up with your Mum yelling at the TV...