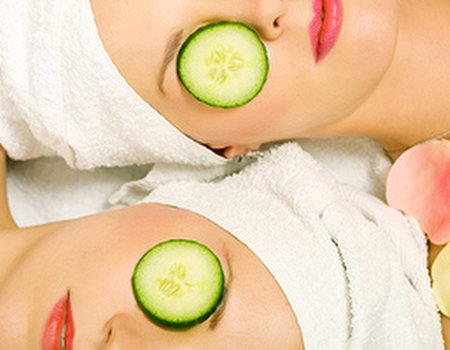 How long did you spend on your beauty and skincare regime this morning? If makeup, curlers and straighteners have all played havoc with your complexion and hair over the festive season, now's definitely not the time to be cutting corners.
We know that it's not always possible to try every new trend or treatment that crops up – but when it comes to the basics, putting in the effort really does pay off. So, before you bewail your tired tresses and dull skin, make sure you're not breaking any of these beauty golden rules:
Cleanse, tone moisturise
We hear it all the time from the experts, and yet many people are guilty of ignoring this skincare mantra. Ideally, you should cleanse, tone and moisturise twice a day to hydrate, nourish and protect your skin.
Cleanse – Using a good quality cleanser will help to remove makeup and dirt that clogs your pores and prevents your skin from breathing. We love the Sanctuary's Fresh-Faced Purifying Wash – nice and gentle on all skin types.
Tone – Toning removes any remaining traces of cleanser and tightens the pores, helping to refine them and prevent the build up of dead skin cells. We're fans of Living Nature's hydrating toning gel, made from 100% natural ingredients.
Moisturise – Applying a face cream or beauty oil helps to restore the moisture that your skin loses during the day. Why not try Moroccan Argan oil – rich in vitamin E to help repair damaged skin.
Prepare your skin with a primer
The perfect base for makeup, a primer is essential if you want to achieve a flawless look. Not only will it help to even out skin tone, but choose the right product and it will also give you a moisture boost. Wahanda loves Garnier BB cream – use as a primer for a radiant glow that will last all day.
Seal your manicure with top coat
If chips are your nemesis when it comes to keeping your nails neat, it's a good idea to invest in a good top coat, like Nails Inc's 2 in 1 Chelsea Bridge top and base coat. This will help to seal your polish, enabling your manicure to last for longer. Want more tips on avoiding chips? Read our community's advice on achieving the perfect DIY manicure.
Get those split ends trimmed
It's a common misconception that avoiding the hairdresser completely is the best way to grow long hair. In fact, dry and damaged ends are prone to break off – making it harder to achieve the luscious locks you're after. Make sure you book into your local salon for a regular trim – your barnet will really thank you for it.
Exfoliate to remove dead skin
Exfoliation is key when it comes to removing dead cells and giving lacklustre skin a real boost. Keep an eye out for scrubs containing natural exfoliants – we can't get enough of Soap and Glory's The Breakfast Club, which contains oats and sugar to smooth and buff.
Looking for more beauty tips? Read the experts' thoughts on how to moisturise in the winter, or browse skincare consultations for advice that's personal to you.