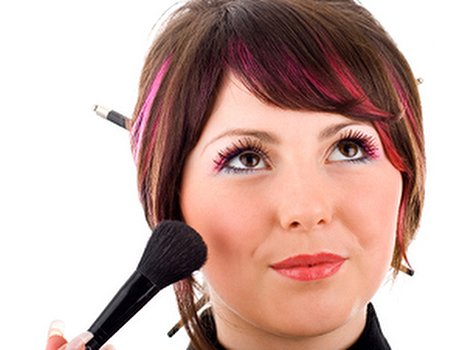 It's almost time for the most anticipated event in showbiz, the Academy Awards - and we've got to admit, we're pretty excited. As the stars spend time picking out the perfect outfit and practising their acceptance speeches in the mirror, we've been turning our attention to hair and makeup – and we think we've got the red carpet look down to a T. Shame we've not actually been invited...
Ok, so we might not be rubbing shoulders with the likes of Brad Pitt and George Clooney – but that doesn't mean we can't look as fabulous as all the leading ladies. Invest in the below and you'll be able to bring a touch of Oscar-style glamour to any occasion – whether you're on a date, out for dinner or on the dance floor. Who needs a £60,000 goody bag anyway?
Professional makeup brushes
No makeup artist worth their salt is ever to be found without a good set of brushes. Quite aside from looking the part, a full kit of brushes is indispensable if you want to be able to create a range of different professional styles. Want flawless makeup like Oscar nominees Bérénice Bejo and Jessica Chastain? From Monday, we're offering 64% off a stunning 32 piece natural hair makeup brush set to cover all your makeup needs. And if you really want a taste of the Academy Awards, why not spend the money you've saved on a bottle of bubbly?
Limited edition cosmetics
The famous Oscars goody bags dished out to nominees and award presenters are crammed full with limited edition products – and we don't see why us mere mortals should miss out. There's something incredibly satisfying about getting your mitts on a limited edition piece – and we're currently hankering after this HighTech Cosmetics Limited Edition Lash Extender, which comes in a fetching silver colour and is topped with dazzling diamante. Available as a national Spotlight Offer from Monday, it'll cost just £9 – that's an impressive 53% off its original value. You can't say we don't spoil you...
Wahanda's pick of perfect products
The Wahanda girls are obsessed with beauty – so it's no surprise that we're constantly coming across fabulous makeup and skincare products. From cult classics to innovative new finds, we've been collecting together a few of our favourites on Pinterest – and we'll be adding to them regularly. Check out the collection on the Wahanda Pinterest profile and find out which products we think are the superstars of the beauty world. Keep an eye out next week for some stunning Oscar looks, too...
In the mood to feed your makeup obsession? We've got some great reading for the weekend – check out YOU magazine columnist Bella Blissett's London Fashion Week lowdown, or read about the multi-purpose products we can't leave home without.