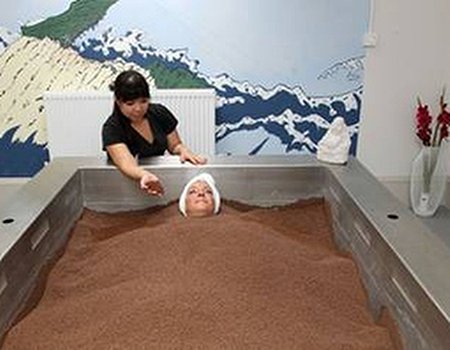 What do you picture when you hear the word 'bath'? For most of us, it's some bubbles, a rubber duck and maybe even a loofah. At Hove's Shadi Danin Medi Spa, however, 'bath time' is much more likely to conjure up an image of thousands of tiny stones. Intrigued? So were we...
The first clinic in Europe to offer the unusual Taizen Japanese Bath, Shadi Danin Medi Spa is the ideal destination for health and beauty lovers who want to try something new. Visit the spa for this treatment and you'll find yourself immersed in a large bath full of lots of tiny heat-retaining stones – ideal for detoxifying the body and restoring a sense of wellbeing. The best part? Relaxing in the Japanese Bath can help you to lose weight and even to get rid of that cellulite. Sounds much better than a boring old bubble bath...
As well as helping you to achieve a trimmer figure, the Taizen Bath can have a positive effect on a variety of different conditions. Suffering from low energy levels, poor circulation or pain from injuries, arthritis or rheumatism? Sink into the stones and let the heat start working its magic.
Spa Director Shadi Danin, who is also an award-winning dermatologist and tricologist, is understandably pretty excited by this impressive new treatment. She says, 'I have had amazing success with the Taizen Bath, with clients reporting weight losses of up to 3lbs per session and improved sleeping habits and general health and wellbeing. I truly believe that the Taizen bath will be the most influential development in detox and weight loss treatments in the coming years and am proud to have imported this technology to the UK'.
Think this could be just the thing to kick start your New Year's detox? You can read about the treatment on our Taizen Japanese Bath page, or contact the Shadi Danin Medi Spa for details of how to book.