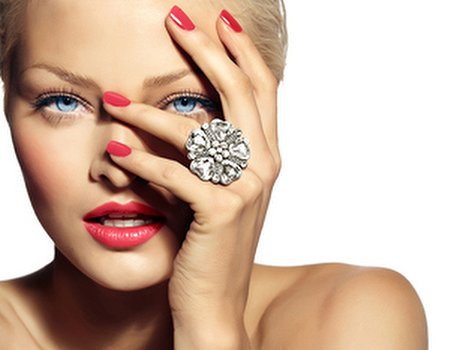 We don't know about you, but fashion makes us dizzy. It often seems as though trends are changing so quickly that our brains (not to mention our bank balances) can't keep up with them. Luckily, you don't need a new wardrobe every season to channel some catwalk couture – your nails are a great way to experiment with all the latest colours and styles. Keep them prettily painted and you might be able to get out of doing the washing up, too...
Ideal for those who don't have the figure and cash flow of a supermodel (i.e. most of us), a manicure or pedicure is the perfect way to inject some seasonal colour into an outfit. Gone are the days of nail polish being restricted to reds and pinks - with fashion houses such as Chanel and Dior leading the way, fresh new shades now make a regular appearance. Unlike previous generations, we can sport Peridot, Graphite or Mimosa – turning us into veritable varnish chameleons. DIY beauty has never been so much fun...
As far as we're concerned, Christmas is the best time of year for giving your nails a makeover. Festive parties are a brilliant excuse to go for a glamorous look, with glitter, gold and even diamante making the perfect accompaniment to that LBD and those killer heels. Nail varnishes rarely cost over £20, and, with many coming in at under £5, needn't break the bank – meaning that you can stay on trend without having to sell your soul. Phew!
In celebration of all that's fantastic about fingers and toes, we've picked some of our favourite nail trends – and a few of our least favourite, too. Stick with us and your talons will be sure to look terrific this Christmas and New Year...
Wahanda loves:
YouTube tutorials – For the budding nail artist or fully fledged fanatic, YouTube is an incredible resource when it comes to nails. Whether you're looking to keep it glam or go for some festive fun with Christmas themed designs, your ideal nails are only a quick search away. We love these silver sparkles by KlairedelysArt and this giftwrap design by MissChievous – just the thing for Christmas Day itself.
Creativity – When it comes to nail art, your imagination is the limit. Experiment with pretty patterns and contrasting colours, or keep it simple for a chic look. For gorgeous hues that will look stunning with or without embellishment, head to nailgirls – our go-to for pre-party perfection.
Pampering manicures and pedicures – As much as we like trying out new styles at home, sometimes only a professional mani or pedi will do. We'll be taking time out this Christmas and New Year to relax and indulge in a luxury nail treatment or two – well, with so many great deals on the site, it would be rude not to...
We're not so sure about:
Nail piercing – As seen on the catwalk at Betsey Johnson earlier this year. It may look fierce, but unfortunately it gives us that nails-against-blackboard feeling that sets our teeth on edge...
Overly long nails – A bit of length can be a good thing, especially if nature has given you shallow nail beds – but get extensions that are too long and you won't be able to open your presents/stuff the turkey/pull a cracker. Sounds like a pretty miserable Christmas to us...
Ready to get the couture look this season? Visit our nails hub for some incredible deals and offers, or invest in some pretty colours and let your imagination run riot. If you've got a design you're particularly proud of, why not show us on Twitter – we love a bit of inspiration.