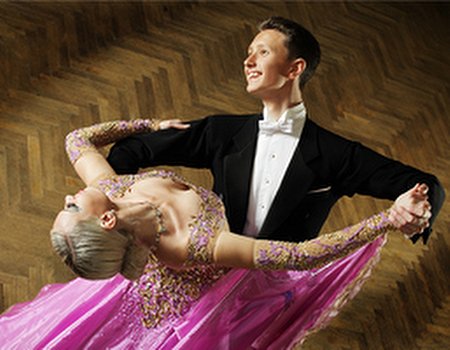 Time to dust off your dancing shoes and make sure there are new batteries in the remote – Strictly Come Dancing is back for another sensational series. There'll be sequins, there'll be glamour and you can guarantee that there'll be a few tears along the way too. We think it's going to make for pretty addictive viewing...
So which famous faces (or rather, famous hips) will we see shimmying on the floor this series? The star-studded line up for 2011 includes Lulu, Nancy Dell'Oilo, Holly Valance, Audley Harrison and Russell Grant. We don't know about you, but our money's on Holly to win – with all that practice making music videos we reckon she's got it in the bag. Although you never know – maybe Edwina Curry will seriously surprise us...
Inspired by Strictly to take up tango or perfect the paso doble? We can't help you with the feathers and sequins, but we can show you where to find a dance instructor near you. Looks like it's time to start throwing some shapes....
Ballroom dancing
Be the belle (or beau) of the ball with a fantastic frame and fabulous footwork. Not only is ballroom dancing a good way to learn discipline – it's also great fun and brilliant for your body. You'll soon find your core muscles strengthening, your legs toning and your stress starting to slip away. Sounds like just what we need...
Worried that you won't look the part? Take advantage of Dappa Hair Boutique's impressive vintage hairdo deal to get ladylike locks that even the Strictly stars would be jealous of.
Latin dancing
Ready to rumba? Crying out to cha cha cha? A Latin dance class is a fun, flirty and fast-paced way to work out – perfect for those looking for something a little spicier than a trip to the gym. Your instructor will teach you to master the rumba, the samba, the paso doble, the cha cha cha and the jive – so that you can hold your own on a dance floor anywhere in South America.
All cha cha-ed out? Why not get a taste of Spain with our fabulous offer on Flamenco classes.
Salsa
Turn the temperature up with some sizzling salsa. This form of dance has become a firm favourite with Brits thanks to its exotic Caribbean and Cuban influences. A sociable way to get trim and toned, salsa is popular with both women and men – so if you're single, get ready to mingle.
Love to get your groove on but not a Strictly obsessive? If ballroom and Latin dancing aren't your cup of tea, why not try ballet, tap dancing, or belly dancing to get those feet moving.