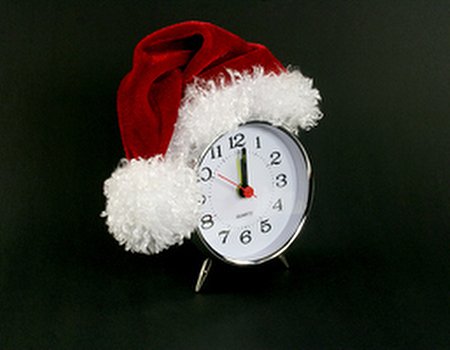 Brace yourselves, insomniacs – a recent survey by Dreams Beds (www.dreams.co.uk) has revealed that the 23rd December is the night that we tend to get the least sleep. Best catch up on some ZZZs tonight, then...
With many people stressed by last minute preparations and others out partying until late, pre-Christmas tiredness can be hard to avoid – and it's sure to take its toll. Nick Wood, spokesperson for Dreams Beds, reckons feeling frazzled in the run up to Christmas explains our tendency to fall asleep during the festivities:
'The results of the survey show it's not just eating a big meal that sends us to sleep on Christmas day. It's important to get as close to 8 hours sleep as you can, so try not to worry about things that are out of your control, late at night.
'We recommend preparing as much as possible in advance and sharing responsibilities within families. Most importantly, bedrooms should be kept present wrapping free; they should be a peaceful haven at the end of the day.' We reckon those are pretty wise words...
Fed up with feeling frazzled by the festive season? We've got a few simple tips to help you stay in control this Christmas, so that niggling thoughts won't keep you awake. Hooray!
Practise some breathing techniques
One of the most effective ways to keep your cool during times of stress, simple breathing techniques are a great way of staying calm and finding focus. Try taking a little time out regularly to concentrate on your breathing, particularly when you can feel the tension mounting – you'll find that you feel much more relaxed.
Concentrate on eating well
If you're anything like us, then Christmas Day itself is earmarked for turkey and all the trimmings, several helpings of pudding and a generous glass of ginger wine - but that doesn't mean that you shouldn't eat healthily in the run up to the festivities. Overindulging in rich or sugary foods can lead to a drop in energy levels, making all the chores you've got to do seem even more daunting. Make a conscious effort to cut down on the snacks and eat plenty of fruit and vegetables, and you'll find you're able to get a lot more done...
Forget about wrapping presents
If worrying about last minute Christmas shopping is stopping you from nodding off, it's probably time to do something about it. But don't worry, we don't expect you to brave the crowds on your lunch break – just visit our Christmas gift ideas page and you'll be able to get it all sorted in a jiffy, hassle free. The best part? Add a gift message and you'll be able to fold your printable e-vouchers into cards, meaning there's no need for wrapping. Phew...
Spend time pampering yourself
Don't spend Christmas Day rushing around like a headless chicken. Make sure you get a bit of time out to have a bath, get ready and generally pamper yourself – it'll lift your spirits for the rest of the day. If your to do list is too long for you to consider taking some time out, delegate – it always works for us.
Plan something to look forward to
Having spent a month or more eagerly anticipating Christmas, it can be a little anti-climactic. Even if your Christmas Day is everything you hoped for, the blues may set in when you realise that it's back to work for another year. We'll be getting over our tinsel withdrawal symptoms by popping an indulgent spa weekend in the diary – just the thing to cheer us up before spring arrives.
Determined to start the New Year on a stress free note? Have a look at our deals and offers on yoga, meditation and stress management to get you feeling nice and serene.