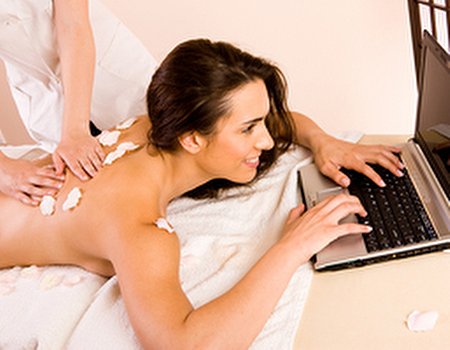 Working 9 to 5...Dolly Parton may have turned it into a catchy song, but in reality the pressures of the working day mean that office life isn't always that cheery. With deadlines and demands keeping many workers constantly glued to their screens, it's no surprise that 51% of Brits are suffering from back pain. Looks like your parents weren't just nagging when they told you to sit up straight...
Tim Hutchful, of the British Chiropractic Association (BCA), says: 'It is no surprise that people are working longer and harder than ever before, however, it is important to realise the implications of this on the health and well-being of your back after a full eight hours or more sat in the same position. Getting away from your desk at lunchtime and at regular intervals throughout your working day is vital, even if it's just for 10-15 minutes. Otherwise, a simple stretch can relieve built-up tension in your lower back after being seated for a long time. In the long run, the result is that you will ultimately feel better and be more productive for the remainder of the day.'
So what can you do to kick the bad habit of slouching and give your back a break? Here are some top tips from the BCA to get you sitting nice and straight:
Relax when sitting into your chair, making sure you have your bottom against the seat back with your shoulder blades touching the back rest of the chair.
Make sure your feet touch the floor (or use a foot rest).
There should be space between the front of your seat and back of your calves.
Your hips should be higher than your knees (tilt the seat).
Arms should be flat and your elbows level with the desk or table you are using. Use a seat with arm rests.
Take regular breaks. Never sit at the computer for more than 40 minutes; less if possible.
When you take a break, walk around and stretch a little; do something completely different.
Remove any obstacles from under your desk to ensure you have enough leg room.
Ready to get moving? The BCA have helpfully come up with a three minute exercise routine called Straighten Up UK, which can be practised daily to benefit the spine and aid posture. You can find this routine, along with other tips and advice, at www.chiropractic-uk.co.uk. There's really no more excuse for slouching...
Bad back giving you the blues? Don't panic – we can help you to find a chiropractor near you.