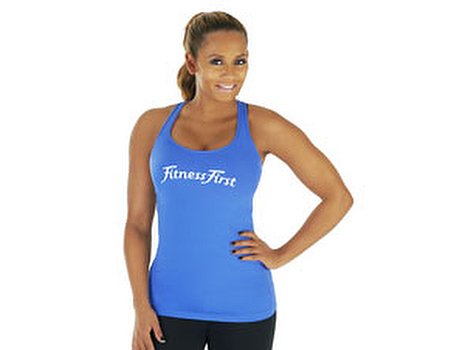 Spice up your life...or at least your fitness routine. Next week (19th-25th March) is International Fitness Week – and former Spice Girl Mel B is determined to get us all up off the sofa and doing our bit to raise our heart rates.
The 'Get Moving' campaign, fronted by Mel and powered by Fitness First, will see Scary Spice on a mission to show us that exercise actually isn't all that scary after all. To get us started and ease us in, she's come up with some great tips and examples – and we've added our own ideas, too. Give them a go and you'll find that the thought of donning your trainers needn't have you trembling, after all...
Know your problem areas
Mel says: My problem areas are my bum, thighs and legs - I do weights and run to keep them in shape.
Wahanda says: If you have difficulty identifying which exercises to do in order to tone certain parts of your body, then why not hire a personal trainer? They'll help you devise a fitness plan that's tailored to you – and what's more, they'll help you to stick to it, too!
Put on some tunes
Mel says: Music is important when you're working out - no matter what it is. Britney, rock, Rihanna - just have it on loud!
Wahanda says: If music is an important motivator for you, try a class like Bodystep or Zumba – the beats will soon have you busting some moves, no matter how tired you're feeling after work.
Make time to exercise regularly
Mel says: I try to work out at least three times a week - that works for me and I try to be consistent with it.
Wahanda says: If going to the gym three times a week is your worst nightmare, try varying your fitness sessions to prevent boredom. Intersperse swimming with yoga and a long walk at the weekend, or try to alternate fun exercise classes with going to the gym and cycling to work.
Embrace your own body shape
Mel says: There are so many celebrities that I think have good bodies, Kim Kardashian, Cameron Diaz both have great bodies - but as long as you are confident, it doesn't matter what shape you are.
Wahanda says: Hear, hear! Instead of longing to look like your favourite stars, make the most of your own assets – get a spray tan to show off those gorgeous pins or indulge in a body wrap to get that skin glowing.
Drink lots of water
Mel says: Don't worry about cellulite, everybody has it - I drink lots of water to try to combat it.
Wahanda says: At Wahanda HQ, we try to drink the recommended 2 litres of water per day – but we know it isn't always easy. If you find yourself craving a hot drink, opt for a herbal infusion instead of normal tea or coffee – it'll help to keep you hydrated, and you'll get lots of benefits from the herbs, too.
Inspired by Mel to join in with International Fitness Week next week? 140 Fitness First clubs in the UK will be opening their doors to offer everybody the opportunity to train for free. Find out more at www.internationalfitnessweek.com, or browse our Fitness First page to find your nearest club.