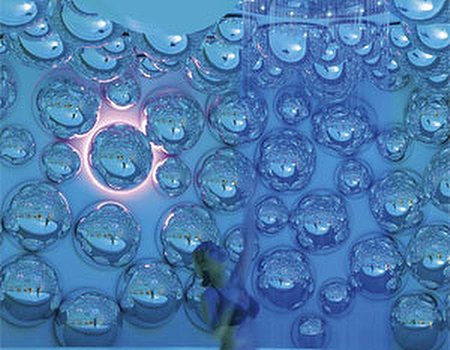 We go to spas to escape from everyday reality, so it stands to reason that we expect something a little out of the ordinary from their interior design. Most spas offer a level of luxury that we just couldn't recreate at home – however some go even further and provide an impressive visual experience that's impossible to forget.
The Atomic Spa Suisse, situated in eclectic Milanese hotel Boscolo Exedra, is one example of a spa that's a treat for the eyes as well as the body. Featuring more than 1,200 mirrored bubbles, the interior of the spa has been designed to evoke champagne bubbles rising to the top of a glass. Visitors can expect a few metal bubbles at the entrance, becoming denser further inside the spa. We're craving a glass of champagne just thinking about it!
Don't worry if you've not clocked up many air miles recently - there are some great interiors to be found in the UK too. Here are some of the other spas whose innovative approaches to design have caught our beady eye...
Bliss Spas
Bliss Spas feature fun grass tiling, bringing a bit of nature indoors. The grass adds a splash of vibrant colour to your spa experience - but don't worry, hay fever sufferers, it isn't real!
Strip
The treatment rooms at Strip's London waxing salons are themed to complement their range of luxury waxes. You could find yourself in the sumptuous Chocolate Room, the opulent Berry Room or the relaxing Lavender Room. And boys, no need to feel left out – the MANifico room has been designed especially with you in mind.
Sanctuary Spa
One of the most memorable features at Covent Garden's Sanctuary Spa is its iconic Koi Carp Lounge. The lounge contains bridges and walkways which span a large pool containing glimmering koi carp fish. There's also an atrium pool where you can go for a dip or, if you are feeling particularly carefree, have a go on the swing.
Have you been to a spa with an intriguing interior? Let us know on Twitter!