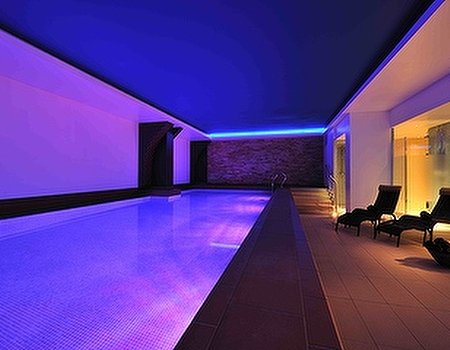 At Wahanda, we love a good laugh - but we also know when it's time to take things seriously. That's why we're pretty impressed with South London-based integrative health and wellbeing centre, Tres. The ideal solution for those who want to benefit from holistic treatment, Tres dishes up good health - without a garnish of useless gimmicks. We think it's the perfect place to get your life back into balance...
The spa
Situated in the luxurious Chelsea Bridge Wharf development, Tres Health and Wellbeing provides a simple yet stylish environment for visitors to unwind in. In addition to contemporary facilities and a riverside café, guests can benefit from a variety of different events held at the centre, ranging from networking evenings and seminars to yoga workshops and art exhibitions. Looking for a little stimulation? Thanks to Tres, it is now possible to follow up a day spent relaxing at the spa with an evening spent admiring paintings or making new contacts. It's a pretty winning combination, if you ask us!
Treatments and facilities
Looking to invest in your wellbeing? The common sense approach at Tres fuses traditional medicine and complementary therapies to leave customers feeling at their mental and physical best. Experts on hand include physiotherapists, nutritionists, counsellors, reflexologists, personal trainers and yoga instructors – all working together to encourage optimum wellness. With treatment programmes tailored to suit the individual and good patient-practitioner communication encouraged at all times, the Tres experience is a personal one – great news if you're fed up with feeling like a sheep.
Of course, there's more to wellness than food and fitness (although they're a pretty good place to start). If you've had a long day or are feeling a little frazzled, Tres is the perfect place to head for some well-deserved relaxation. Why not have a splash in the glamorous pool, or unwind with treatments such as a honey, ginger and rose mud wrap or Balinese Flower Ceremony ritual. Trust us - you'll forget you're in Chelsea and start to imagine you're somewhere much more exotic...
Treat yourself
If you fancy taking some time out to focus on your body and mind, why not take a look at our fantastic Tres Health and Wellbeing spa day Spotlight Offer, which goes live on Thursday. Purchase an e-voucher for just £37 and you'll enjoy a luxurious La Sultane de Saba ritual, including a hammam session, 30 minute treatment of your choice and Moroccan tea and champagne truffles. You'll also be invited to use the spa pool, sauna and relaxation area – everything you need to restore a bit of vitality.
We think this Spotlight Offer would make a wonderful Mother's Day gift – nothing shows your appreciation like a spot of pampering! We've also got plenty of other gift ideas on our Mother's Day page, so you'll be able to find the ideal present – no matter how picky your mum is.