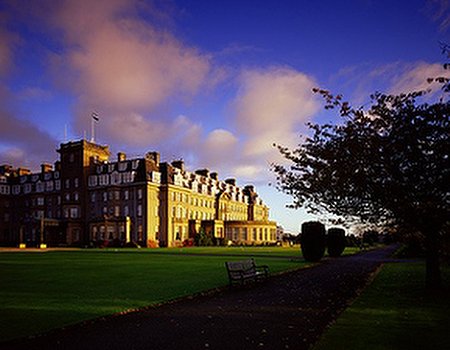 If you weren't already planning a mini break in Scotland this year, we're pretty sure you will be by the time you've finished reading this post. Recently launched, the new ESPA Life Spa at Gleneagles Hotel boasts a team of highly professional specialist therapists, offering all manner of programmes - from holistic medicine and spa treatments to personal training and physiotherapy. We can't think of a better place to get to work on your wellbeing...
The spa
Set within 850 acres of stunning grounds, the new ESPA Life experience incorporates all the luxury of the Gleneagles Hotel itself. With a focus on fusion, the spa's personalised programmes are designed to target all aspects of wellbeing, and to address the stresses and strains of fast-paced modern day living. Add to this a clean, contemporary design concept and the spa provides the ideal escape. Time to start packing that suitcase...
Treatments and facilities
Looking for a traditional pampering experience? Fear not. In addition to the wide variety of treatments and therapies available, the Spa at Gleneagles offers a vitality pool, crystal steam room, sauna cabin and Arctic mist shower. There are also designated relaxation areas, in addition to treatment rooms where guests can unwind with a massage, body treatment or nourishing facial – the perfect antidote to a difficult week.
For those who need a bit more work to set them straight again, ESPA Life's team of specialists is on hand to help. Consisting of naturopaths, osteopaths, physiotherapists, traditional Chinese medicine acupuncturists, personal trainers and herbalists, to name but a few, the team is able to offer everything you need to get you back into balance. Whether you struggle with sleep, are hoping to detox or are looking to de-stress, the ESPA Life staff will be happy to assist. Just think of the spa break as your body's own MOT…
Watching what you eat? As part of the ESPA Life's all encompassing approach to wellbeing, you'll be able to take advantage of the special nutritional programme, which includes healthy meals at the Deseo at the Spa Mediterranean-inspired restaurant. We don't know about you, but just the thought of it has got our taste buds going…
Treat yourself
Think that the ESPA Life spa might be just the place you've been looking for? Gleneagles is offering a special introductory 'Taste of ESPA Life' package which runs until 31 March 2012. From £315 per night, based on two people sharing a classic room, the offer includes breakfast and a 1 hour 20 minute spa treatment each. Sounds pretty good to us...
For contact details, spa day offers and a peek at the ESPA Life menu, just head over to our dedicated Spa at Gleneagles Hotel page, where you can find everything you're looking for in one place. After all, it's the perfect time to start planning that Valentine's Day surprise...