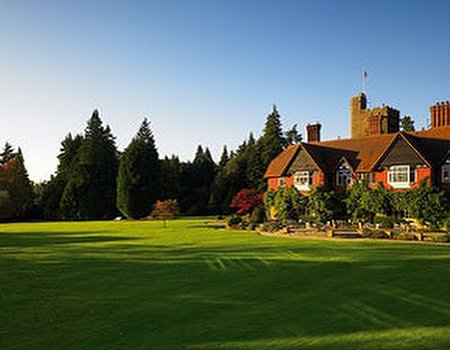 Surrey's Grayshott Spa is a favourite with the Wahanda team – and it takes just one trip to see why. With beautiful grounds, a relaxed atmosphere and expert staff, we really can't think of anywhere else quite like it.
Of course, stunning scenery and the provision of cosy bathrobes aren't enough by themselves to create a memorable spa experience (although they certainly help). In addition to its unique surroundings and welcome extras, Grayshott offers a wide choice of treatments, therapies and facilities to encourage mental and physical health and wellbeing. It's no wonder, then, that Woman & Home magazine has termed the venue 'the most serious spa in the UK'...
The spa
Grayshott's impressive grounds and adjoining 700 acres of National Trust land provide the ultimate backdrop for a variety of different wellbeing retreats. All visitors to the spa pass through the inscribed entrance, which proclaims 'Pax intrantibus. Salus exeuntibus' (or, to those like us who are a bit rusty with our Latin, 'Peace on arrival, health on departure'). It's a good motto, and one which the team at Grayshott works hard to uphold.
Those who are relatively new to the spa world will be glad to know that the atmosphere at Grayshott is wonderfully relaxed, and not in the slightest bit intimidating. The dress code is casual, and guests are invited to remain in their robes and slippers if they choose to do so – which thankfully eliminates the worry of selecting what to wear to dinner in the evening. If only we could dress that way all the time...
Treatments and facilities
Whether you love being lazy or are anxious to get active, you'll be sure to enjoy the wide variety of different spa and fitness facilities on offer at Grayshott. Choose from indoor and outdoor swimming pools, steam and sauna areas and relaxation rooms to help you unwind after a hard week, or get into shape with the gym and weights room, indoor and outdoor tennis courts, 9 hole golf course and walks in the grounds.
In addition to a range of pampering spa treatments, such as massages, body wraps and facials, the staff at Grayshott now run tailored health retreats to assist those who are concerned about different aspects of their wellbeing. From an expert weight management programme to a sleep retreat, stress recovery programme and menopause retreat, these longer stays are designed to help address serious problems and leave guests feeling healthier, fitter, and overall better in themselves.
As true foodies, we can't help but also mention the meals available at the spa. Guests are able to choose from a healthy eating menu or a lighter, portion controlled plan (which includes options such as a delicious Bento box – not the boring diet food you might have feared). Breakfast, lunch and dinner are all included in your stay, and wine is also available at a separate charge from the aptly named Bubbles Bar. Well, one glass definitely can't hurt...
Treat yourself
If you fancy finding out more about this special spa and treating yourself to a stay, you can visit our Grayshott Spa page for details. We've also got some great spa day offers available, including 49% off a Friday spa day for two, and an exciting Spa & Dine evening experience. We don't know about you, but we're feeling pretty tempted...