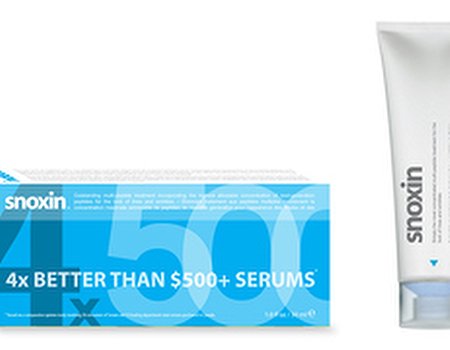 Fed up with time taking its toll? We all want to get rid of those wrinkles and lose those lines, but unfortunately, youthful looks tend to come at a high price. With many leading skincare brands charging hundreds or even thousands for their serums, the world of anti-ageing hasn't always been very accessible. Happily, that all looks set to change...
We were excited to learn that Indeed Labs, creators of the popular Nanoblur, are set to launch another revolutionary product in February 2012. Snoxin is a multi-peptide treatment with the ability to reduce dynamic wrinkles by 52% in 28 days, sagginess by 28% in 56 days and wrinkle depth by 22% in 51 days. Form an orderly queue...
Free from fragrance and parabens, Snoxin contains the highest possible concentration of anti-ageing peptides – allowing it to outperform alternatives such as cosmetic injectables or laser treatments. Combating several different signs of ageing in one step, Snoxin is an efficient and effective way to reduce the appearance of lines.
With Snoxin proven to be so potent, you would be forgiven for thinking that it would burn a sizeable hole in your wallet. Try not to fall off your chair when we tell you that it's set to retail at just £29.99...
It just goes to show that you can't always measure quality in pound signs. Dr Nowell Solish, Toronto-based cosmetic dermatologist, says: 'In a recent comparative consumer study, we found Snoxin to be four times better than 10 leading department store serums costing hundreds of pounds.' Sounds pretty good to us! We think we'll give this new product a go and spend the money we've saved on a relaxing spa break...
We don't know about you, but we're really looking forward to Snoxin hitting the UK market next year. Until then, try treating yourself to a rejuvenating facial to keep those blemishes at bay.