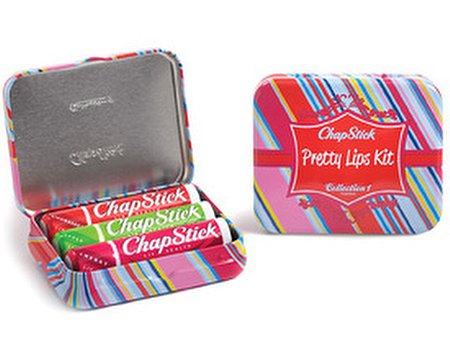 Before you pucker up under the mistletoe this Christmas, you might want to check that your lips are in tip top condition. Find the cold weather tends to punish your pout? ChapStick's new limited edition lip kits will keep your lips kissably soft all festive season – and their stylish presentation makes them a fantastic stocking filler. We've got to admit, we're a bit addicted...
Designed to avoid any frustrating handbag rummaging, each luscious lip kit consists of three different flavoured ChapSticks in a cute collectible tin. Once you've used up your sticks, the possibilities for recycling the tin are endless - we think it's a great way to store fresh breath mints, keep earrings tidy or even store paperclips on your desk.
Whether you opt for a 'Hot Lips' kit, a 'Posh Lips' kit or a 'Pretty Lips' kit, you'll be able to enjoy the fruity flavours of Apple, Cherry and Strawberry ChapStick this Christmas. We couldn't wait to open ours, so we gave them a test this weekend – and were pleased to find they left our lips beautifully soft and flake-free. We're particularly hooked on the delicious apple flavour, which is almost good enough to eat...
Want to keep your lips luscious and kissable this Winter? You can purchase the stylish new ChapStick lip kits from supermarkets and pharmacies – trust us, you'll be the envy of everyone in the office.
Find that it's not just your lips which become dry in the Winter? Treat yourself to a fabulous facial to rehydrate your skin and get that gorgeous glow back.