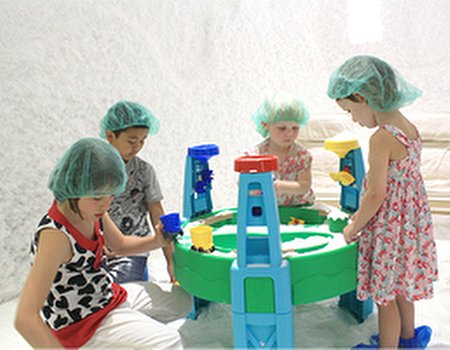 Looking for a treatment that's worth its salt? Halotherapy is relatively new to the UK, but has already amassed a large number of fans. A drug-free, child-friendly method of treating skin conditions and respiratory illnesses, this form of therapy involves spending time in a room lined entirely with crystals of salt - with no pepper in sight.
The Milton Keynes Salt Cave was opened by Linh Vi, who left her job as a driving instructor when she discovered halotherapy. After the salt helped to clear up her hayfever, Linh decided she wanted to make this unusual treatment available to more people. She says: 'As there are very few Salt Caves in the UK, I decided it would be a great facility for the people of Milton Keynes and the surrounding area. It is a simple treatment that really does work'.
Intrigued? A session at the Milton Keynes Salt Cave typically lasts for an hour, during which time you will be invited to relax in a room that is coated in a thick layer of salt. Looking to de-stress? Not only will the experience help you to breathe more easily, it will also encourage you to unwind. Just grab a blanket, sit back, put your feet up and relax...
Of course, everyone knows that it's nigh on impossible to keep children still for very long. Luckily, at the Salt Cave, there are two separate treatment rooms for adults and children – meaning that the little ones can move around as much as they like. They can play with toys, do some colouring in or watch the TV – whatever keeps them happy whilst the salt crystals work their magic.
Sofia Benke, co-creator of the Salt Cave, says: 'The Salt Cave rooms are designed to replicate conditions of the Eastern European salt mines that date back to the early 19th century. Halotherapy, or salt therapy, uses a dry aerosol of salt microparticles to treat respiratory and dermatological ailments. The tiny salt particles clean the respiratory system, and can even reach into the deepest part of the lung.'
Want to try this treatment for yourself? There are currently four Salt Caves in the UK where you can go for a breath of fresh air. Not got one near you? Why not try the Salt Pipe for halotherapy on the go.