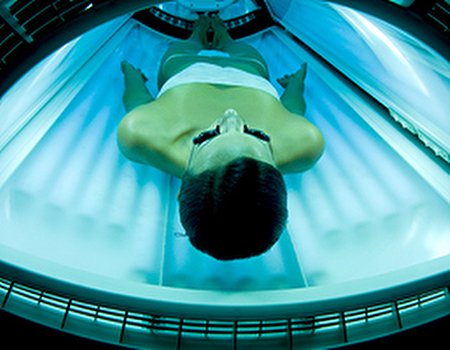 No, we've not decided to write all of our blogs in text speak – we're referring to the launch of a new initiative by Cancer Research UK. Designed to raise awareness of skin cancer and the damage caused by sun beds, R UV UGLY? is backed by a number of celebrities, including The Saturdays, Kym Marsh, Michelle Keegan, Patsy Palmer and Kate Lawler. It's great to see so many famous faces supporting such a good cause...
Looking to get a golden glow this Christmas? Earlier this year, legislation was introduced banning under 18s from using sunbeds – but there are still plenty of young Britons who are looking to tan ahead of the party season. Cancer Research UK's SunSmart team hope that the R UV UGLY? campaign will encourage some of these people to think twice – and to consider safer options such as a spray tan or even staying pale.
The R UV UGLY? initiative, launched today, has seen Cancer Research UK team up with the UK's No.1 skin clinic, sk:n. They're offering the public free skin consultations (normally £25 each) to help identify any damage that has been caused by UV rays. The high-tech cameras used during the consultation will reveal wrinkles, areas of dehydration and sunspots – so that you can see what you really look like.
Of course, it's not just wrinkles that you risk if you regularly use sun beds. Use of these machines is linked to melanoma, one of the deadliest forms of skin cancer – and also one of the few skin cancers to affect young adults.
Chris Lunn, SunSmart campaign manager at Cancer Research UK, says: 'As the festive party season approaches, we worry that people might be putting their health at risk by visiting tanning salons to achieve a tan. Often the consequences aren't seen for years so we want to help give people a sneak preview of what their future face looks like and if they must have a tan, encourage them to switch to a safer alternative by using fake tan.'
To book an R UV UGLY? skin assessment, call 0800 822 3037 or visit www.sunsmart.org.uk/. It's better to be safe than sorry...
Want to look after your skin this December? With pale celebrities such as Nicola Roberts becoming increasingly popular, we think the porcelain look is pretty hot. Of course, if you prefer to be bronzed, you can always check out our deals and offers on spray tanning to get you looking golden in no time.