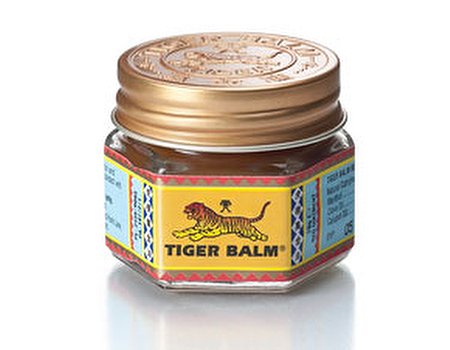 It seems an incredibly long time since last summer, when we first wrote about Tiger Balm - the product that we wouldn't board a plane without. Now, in the depths of gloomy British winter, there's not much call for warding off insect bites – but we've nonetheless still got our trusty pots of Tiger Balm Red by our sides. Well, in our gym bags, to be precise...
Many people will be familiar with Tiger Balm as a form of relief from tension headaches and posture-related neck strain – but did you know that it can come in handy after physical activity, too? Tiger Balm Red contains camphor, menthol, cajuput, clove oil and cinnamon oil to help provide targeted relief of muscular aches and pains. Applied post-workout, the ointment will soothe weary muscles – and used before exercise it can even help you to warm up. We've got to admit, we do love a good multi-tasker...
First developed in the 1870s to relieve the aches and pains of Chinese Emperors, the Tiger Balm recipe has survived the test of time – and is now popular with athletes and trainers across the globe. An indispensable product for anyone looking to run a marathon or perform any other feat of endurance, the balm is also ideal for us lesser mortals, who are somehow just about managing to stick to our weekly fitness plans. After all, every little helps...
Not sure whether a herbal product will be strong enough to do the trick once you've stumbled off the treadmill? Although its ingredients are entirely natural, Tiger Balm is in fact a licensed medicine – and deserving of a place in any well stocked medical cabinet. Why not keep a jar at home for some much needed relief in the evenings, or throw into your gym bag for an instant remedy.
If you're ready to give Tiger Balm Red a go, you can purchase this practical product from Boots, Tesco, ASDA, Morrisons, Superdrug and independent pharmacies.
Looking for a little something extra to get rid of those post-exercise aches? Why not browse our relaxing massage offers to help you unwind and loosen those muscles. Whoever said 'no pain, no gain' was definitely wrong...