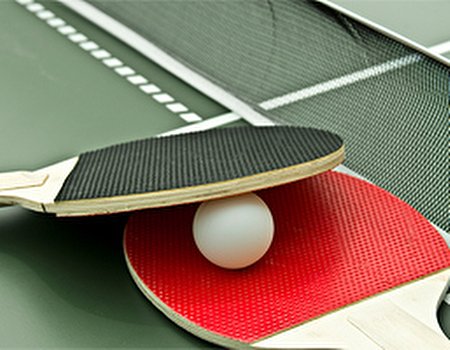 Forget tennis – why not try your hand at the world's most popular racquet sport: ping pong. Played by over 10 million tournament competitors annually, this fast-paced game is perfect for those who are sharp of eye and nimble of wrist. But don't be fooled by its reputation as a gentle youth club game – competitive ping pong can lead to some nasty strains and injuries if you aren't careful. Might be best to keep a first-aid box to hand...
With the 2012 Olympics drawing near, sports support company Neo G (www.neo-g.co.uk) are predicting an increase in the numbers of novice ping pong players taking to the table. To help prevent pain and keep the sport fun, they've come up with safety tips for all newbies to follow. Racquets at the ready...
Warm up those muscles
5-15 minutes is all it needs to ensure your muscles are warmed and your heart rate elevated slightly with increased blood flow. A few gentle stretches will really help you to avoid straining your arm muscles and joints.
Don't leave ping pong balls around the table
It might be tempting but this is a sure fire way of tripping up and slipping on ping pong balls as they move around easily. Ankle injuries and foot injuries can be caused this way and are very easy to avoid.
Be aware of other players
When playing doubles, be aware of where your partner is as you don't want to accidentally bump into them or hit them with your bat.
Don't ignore pain
Table tennis might sound like a very light sport but quick and rapid movement is necessary. If you are experiencing any discomfort when playing, don't ignore it! A small injury can very easily get worse by just ignoring it.
Watch out for sharp edges
By accidentally swinging into corners or edges of the table serious injuries can occur.
Stay hydrated
Don't forget your bottle of water to keep you hydrated throughout games and training.
In the event that you do injure yourself, Neo G's 3D Integrated Hot and Cold Therapy range can help you to rehabilitate as quickly as possible. The supports can be adjusted to suit the wearer's needs, and there is no danger of blood flow being restricted – a risk with some of the designs found in other sports shops.
Paul Starkey of Neo G, says: 'It doesn't matter whether you are a beginner to the sport or an advanced player; ping pong is a great form of exercise burning 200-250 calories per hour for beginners and 400-600 calories per hour when playing at an intermediate to advanced level. With top players smashing the ball at speeds exceeding 100 miles per hour, it is clear to see just how important physical fitness and safety is when taking part in the popular sport.'
Hear hear! Fancy perfecting your ping pong skills? Check out our table tennis page and remember – have fun and stay safe!