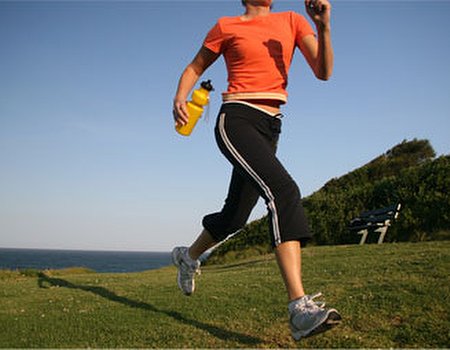 Calling all couch potatoes. We all know that exercising is much better for us than lazing around doing nothing, but unfortunately sometimes it's just not as appealing. However, recent research has revealed that those who spend a lot of time sitting down are more at risk of developing dangerous blood clots than those who stay on the move. That's given us back our get-up-and-go...
At Wahanda we're a bit like that sports teacher you had at school – we don't believe in excuses. Whatever the reason for your lack of exercise, we've got a solution. It's time to put down the remote and start getting fit – you'll feel better for it, we promise.
Feeling skint?
We all know what it's like to feel broke. If you're trying to watch the pennies, then a gym membership is likely to be a luxury that you just can't afford. But don't get too comfy on that sofa – there are lots of other ways that you can get fit for free. Running and walking don't cost a thing and will help you lose weight and tone up whilst getting those endorphins going. Alternatively, you could try one of our free fitness deals, designed to help you get in shape without giving your bank account a battering.
Far too busy?
It can be hard to fit exercising in to your life. Very often it's difficult to find the time at all, and when you do have a spare hour it can be hard to know exactly how to use it for maximum benefit. Luckily, a personal trainer can help you to get the most out of an exercise session and can tailor a programme to fit in with your lifestyle. You'll be feeling like Gwyneth or Madonna in no time...
Can't stand the gym?
Going to the gym is a bit like Marmite – there are those who love it and those who absolutely loathe it. If you fall into the second group, why not try a fun new class such as Bodystep or spinning? It'll be more varied than just an hour spent on a treadmill, and you'll get to meet lots of great new people. You may even decide that the gym can be enjoyable, after all...
Got no motivation?
We know the feeling. Sometimes it just seems so much easier to grab a tub of ice cream and collapse in front of your favourite TV series. If the only exercise you get is pressing the buttons on the remote, it could be time to take yourself off to a boot camp. These rigorous classes will help you to get trim, toned and fantastically fit – sitting a session out just isn't an option. It might seem difficult at the time, but believe us - you'll feel so much better for it afterwards.
Want to turn over a new leaf? Check out our detox and fitness page for ideas to help you kickstart your new exercise routine.