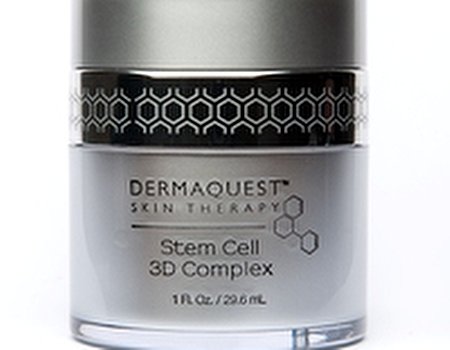 Good news for those who, like Cher, are looking to turn back time - skincare brand DermaQuest are hailing their latest product as 'the ultimate anti-ageing hero'. Containing extracts of gardenia, edelweiss and sea fennel, the Stem Cell 3D Complex promises to reduce wrinkle depth by 15% over a period of 20 days. I headed over to the Westfield DestinationSkin clinic to attend the product's launch and see for myself what all the fuss was about.
At first glance a pot of the Stem Cell 3D Complex appears rather small. However, there's a lot packed into those 30ml, meaning that a little goes a long way. The cream contains botanical stem cells that are 1,000 times more active than the stem cells currently used in other anti-ageing products. Extracts of antioxidant-rich gardenia help to encourage collagen synthesis and prevent collagen breakdown, improving the skin's elasticity and reducing the appearance of lines. Edelweiss encourages cell renewal and regenerates tissue, whilst sea fennel helps to reduce pigmentation and improve skin radiance. Add to this some extract of goji berry to firm the skin and brown algae to hydrate and you have a multi-tasking product that targets a variety of signs of ageing.
Many people tend to apply too much face cream, making it difficult for the skin to absorb. Each pot of the Stem Cell 3D Complex contains a handy airless pump that's easy to use and dispenses just enough cream for one application, preventing product overload and meaning that a 30ml jar can last a few months. The cream should be massaged gently into the face and neck using upward strokes of the fingertips. It is also suitable for application on the under eye area, so can also be used to replace your eye cream in your daily make up routine – meaning one less pot to clutter up the bathroom!
I was lucky enough to experience the Stem Cell 3D Complex as part of a DestinationSkin facial. My friendly therapist talked me through each step of the process as she went about reviving my tired skin. She placed emphasis on the importance of prevention as well as cure – I'm in my twenties and therefore wrinkle free, but like anyone my skin undergoes a variety of different stresses as a part of my daily routine. The therapist began by giving my skin a good cleanse, before exfoliating with a fresh smelling algae scrub. She then applied a mask which she described as the Pac-man of the beauty world, eating up dead skin cells to leave the skin clean and refreshed. This was followed by a cooling and hydrating B5 serum, after which it was time to test the star of the show – the Stem Cell 3D Complex.
The therapist gently massaged the cream in to my skin. It was immediately cooling and refreshing, with a smell that was reminiscent of fresh sea or mountain air - pleasant but not too overpowering. It took a while after the facial for the product to be fully absorbed by my skin, but when it was it felt noticeably firmer, smoother, softer and tighter. Over 12 hours later and without a reapplication of the product my skin still feels clean, firm and refreshed – it's even survived the daily commute.
Skin care fanatics will be glad to know that the Stem Cell 3D Complex is a gentle cream that's suitable for use after laser or peel treatment. The product retails at the rather daunting price of £195 for 30ml – however, it claims to be a one-pot wonder that can replace all your other anti-ageing skincare products, so in the end it could save you money…
If you're feeling the effects of the sun, pollution or just the daily grind then why not show your skin some love with our DestinationSkin deals and facial offers – it'll thank you for it by keeping the wrinkles at bay…